DLM-Distribution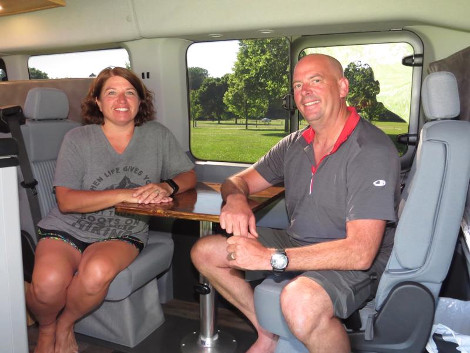 CAMPER VAN SALES
DLM-Distribution founded in 2006 is a licensed Camper Van dealer and manufacturer specializing in the design, manufacturing and distribution of the Mini-T campervan. Our business began from our love of camping and travel to National Parks across the nation.
Our vision is to build memories, fun and opportunities. We can help you accomplish this through our well-built, economical and easy to drive garageable Ford Transit Connect Mini-T campervans. Our team holds Master Certifications (ASE) in the light and heavy duty automotive and trucking industry as well a FAA Airframe and Powerplant (A&P) licenses. From technical expertise and experience in the automotive industry, trucking industry and aircraft technical and electrical expertise to include building of light aircraft we bring worry free, reliable and proven systems to the Campervan RV market like no other.
DLM Campervans allow the ability to travel on a moment's notice, explore, camp, tailgate or even go to work with efficiency and ease.
Our Class B Mini-T camper vans are sized, designed and built with features to make your adventures comfortable, whether you are exploring the Nation's National Parks, staying local in your state or tailgating at sporting events. DLM campervans also make great daily drivers and can fit in your garage.
Please contact us about our available camper vans or to find out what may be available but not yet on our website. Our Mini-T Camper vans are often pre-ordered while in production and never hit the open market from our dealership.
Campervan questions? Delivery or CamperVan Financing Questions? Contact DLM-Distribution at 651-285-7089 or 507-382-9446 to see how affordable a DLM-Campervan can be.
Happy camping!
Dave and Candy Mellon
Advantages of purchasing your Campervans from DLM-Distribution? Click to read more.
DLM-Distribution sells all Mini-T Campervan RV's factory direct through our Lake Crystal MN dealership. DLM-Distribution is a leader in customer service & nationwide campervan sales and delivery. We deliver economically anywhere in the continental USA.
Frequently asked questions about the Mini-T Campervan:
Q: Do your prices include the van?
A: Yes! The Mini-T Campervan is a "Turn-Key" RV Ready for your adventures
Q: If I bring you a van, will you convert it for me?
A: No, we are the licensed dealer and manufacturer of the Mini-T Campervan. There is no reason to bring us a van as our campervans are manufactured and ready for your adventures.
Q: Is the Mini-T available in AWD or 4WD?
A: The Ford Transit Connect is available only in FWD.
Q: Does the Mini-T Camper van have a Pop Top option?
A: No
Q: Do you offer longer term RV financing for the Mini-T Campervan?
A: Yes, although most customers prefer to use their personal bank they have a relationship with; we do work with lenders that offer RV financing with terms up to 12 years (good credit, approximately 15% down payment required)
Q: If I live out of state, how do I take delivery of my Mini-T Campervan?
A: Most customers fly into MSP. We will pick you up at the airport and bring you to our facility for your orientation and then you can start your first camping adventures.
Q: If I do not want to fly into MSP how can I take delivery of my Mini-T Campervan?
A: We do offer shipping, pricing is dependent upon your zip code and location.
Q: Can you customize the Mini-T for me?
A: No, the Mini-T is our standard campervan conversion. There are many accessories available including awning, cargo carriers, Laveo toilet, etc.
Q: Does The Mini-T Campervan come with a toilet?
A: Yes, the Mini-T Campervan comes with a foldable wag/bag style toilet stored under the bed
Q: Do you offer a warranty?
A: The remaining Ford warranty applies to each Mini-T Transit Connect campervan. The Mini-T conversion comes with a one year, unlimited mileage (non-transferable or commercial use) warranty.
Q: How do I contact DLM about your products and availability?
A: We love to talk to customers! We find it is best to answer questions over the phone. Please call! Dave at 651-285-7089 or Candy at 507-382-9446.
Q: How can I visit DLM Distribution?
A: DLM is by appointment only. Please call to schedule an appointment.
Q: Can I stand up in a Mini-T?
A: No, the Transit Connect is a size of a mini-van or small SUV. In order to fit in a standard garage you will not be able to stand inside.
Q: Does DLM-Distribution offer campervans on other than a Transit Connect or Transit Chassis?
A: No
our advantages
Garageable Campervan

Our small Mini-T Campervans fit in your garage and can easily be used as a daily driver.

Manufacturer Direct

DLM-Distribution offers personalized service and support with each customer.

Conversion Warranty

12 Month unlimited mileage conversion warranty (non-transferable, non-commercial use).

Great Customer Service

Unlimited assistance through phone calls, emails, or text. If we are available, we will help you, even from your campsite!

Logistics Assistance

Airport pickups, shuttles or shipping options are available. Call for details.

Economical and Simplicity

DLM Campervans get great gas mileage, need minimal maintenance and fit into campsites with ease!
New Campervans
DLM Distribution manufactures on new and used vehicles. Call for new vehicle options.
available inventory
Used Campervans
Our campervans are brand new conversions on slightly used vehicles. The vehicles are top tier with most of the Ford warranty remaining.
available inventory
Sold Campervans
View some of our recently sold campervans. DLM-Campervans can manufacturer any of these for you. Call us for details on units in production or upcoming camper vans.
past inventory