NEWS
April 30th, 2006
Pack up your Mini-T Campervan and go! With the freedom to travel at your own pace and the convenience of having your home on wheels, campervan trips offer a one-of-a-kind adventure for travelers of all ages, genders, solo travelers, or couples.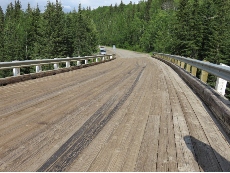 Here's your ultimate guide to planning a Mini-T Campervan road trip.
Choosing a Route
The first step in planning your campervan road trip is to choose a route that fits your interests and preferences. Consider factors such as scenery, attractions, and driving time. Research online for recommendations or consult travel books to find scenic routes or famous tourist spots to visit. Make sure to plan a route that allows enough time to fully explore each stop and doesn't involve excessive driving in one day.
Booking Campsites
One of the great things about a campervan trip is the ability to stay at campsites and RV parks, which provide amenities like bathrooms, showers, and electrical hookups. Research campsites along your planned route and book in advance to ensure availability. Take into account factors such as the location of the campsites, amenities, and cost.
Preparing Your Campervan
Before setting off on your campervan adventure, make sure to prepare your vehicle. Check that all maintenance tasks are up to date, including oil changes and tire rotations. Make sure everything is working correctly.
Packing Essentials
When packing for your campervan trip, make sure to bring essentials such as bedding, cookware, and basic provisions. Don't forget to pack a first aid kit, and be sure to bring a map or have your destination set in a GPS system to stay on course. Consider packing lightweight, collapsible gear to save space in your campervan. Don't overpack! This is so common, if you need something or forgot something, you can stop along the way and buy one. If you see a "must-have" on your trip that is not needed, mail it home so as not to take up too much space in your campervan.
Budgeting
Budgeting for a campervan trip is important, as costs can add up quickly. Take into account factors such as fuel costs, campsite fees, and food expenses. To save money, consider preparing meals in your campervan rather than eating out, and choose campsites with affordable rates.
Safety Considerations
Staying safe on the road is essential. Check weather conditions and road closures before setting out on your trip. Plan your route in advance, and avoid driving in unfamiliar areas at night.
Entertaining Yourself
To keep yourself entertained on the road, consider bringing music, podcasts, or audiobooks. Bring board games, cards, or outdoor activities if you're traveling with others. Consider stopping at local landmarks, markets, or small towns to immerse yourself in the local culture.
Flexibility
Finally, be open to changing plans and taking advantage of unexpected opportunities. Don't feel like you have to stick to a rigid itinerary, and allow for some downtime to relax and enjoy your surroundings.
In conclusion, a Mini-T campervan road trip offers an exciting and unique way to explore the open road. By following these tips, you can plan a memorable and rewarding adventure that you'll remember for years to come.
Happy Camping!
DLM-Distribution / Campervans is a licensed manufacture and dealer located in Lake Crystal Minnesota serving clients around the country
Contact Dave: 651-285-7089 or Candy: 507-382-9446 today!