NEWS
March 20th, 2023
Are you ready to hit the road and embark on a thrilling tour of Nebraska? Imagine cruising down the historic Oregon Trail, wind in your hair and adventure at your fingertips, all while comfortably exploring in your trusty Mini-T Campervan.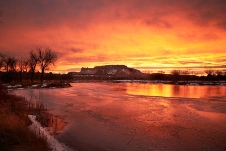 Start your journey by visiting the Scotts Bluff National Monument, an awe-inspiring rock formation that has been a landmark for travelers for thousands of years. Hike to the top and take in the stunning panoramic views of the surrounding landscape. And when it's time to rest for the night, simply park your Mini-T at the nearby Riverside Campground and enjoy the tranquility of nature.
As you continue your journey, make a stop at Ash Hollow State Historical Park to learn about the rich indigenous cultures of the region. You can explore the evidence of human habitation that dates back over 8,000 years and discover the fascinating stories of the Plains Indians who once lived there.
For a more immersive natural experience, head to the Sandhills of Nebraska. This vast and unique landscape boasts endless rolling hills and diverse wildlife, such as bison, pronghorns, and coyotes. You can camp at one of the many state parks in the area and take a scenic drive or hike along the picturesque trails.
If you're looking for a more urban experience, Lincoln and Omaha offer plenty of cultural attractions to explore, such as museums, art galleries, and theaters. And, of course, don't forget to indulge in some of the state's famous cuisine, including savory beef and sweet corn.
With your Mini-T campervan, you'll have the freedom and flexibility to create your own unique itinerary, embrace the beauty of the open road, and truly immerse yourself in the heart of Nebraska. So pack your bags, start your engine, and let the adventure begin!
Happy Camping!
DLM-Distribution / Campervans is a licensed manufacture and dealer located in Lake Crystal Minnesota serving clients around the country
Contact Dave: 651-285-7089 or Candy: 507-382-9446 today!