NEWS
June 16th, 2018
Wyoming offers some of the most spectacular and untouched natural beauty in the United States, making it an ideal destination for a trip in your Mini-T campervan. Here are some of the best road trip ideas for exploring Wyoming.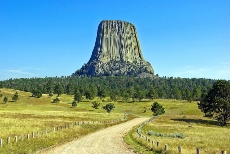 Yellowstone National Park: This iconic national park is one of the most popular destinations in Wyoming, offering stunning scenery, geothermal features, and abundant wildlife. Take a scenic drive along the park's Grand Loop Road and stop to hike, explore geysers and hot springs, and take in the views of Old Faithful.
Grand Teton National Park: Just south of Yellowstone, Grand Teton National Park offers breathtaking mountain scenery and outdoor recreation opportunities. Drive along the Teton Park Road, hike to Hidden Falls, or go kayaking on Jackson Lake.
Wind River Range: The Wind River Range is a stunning mountain range in western Wyoming, offering some of the best hiking and backpacking in the state. Take the scenic drive along Wyoming Highway 28, which offers stunning views of the mountains.
Bighorn Mountains: Located in north-central Wyoming, the Bighorn Mountains offer a scenic drive along US Highway 14, which winds through the mountains and offers stunning views of the surrounding landscape. Stop to hike or camp along the way.
Devil's Tower National Monument: This unique geological formation is located in northeastern Wyoming and is a popular destination for rock climbers and hikers. Drive along US Highway 14 to reach the monument, and take in the views from the hiking trails.
Hot Springs State Park: Located in Thermopolis, Wyoming, Hot Springs State Park is home to several natural hot springs and offers a unique place to relax and soak in the mineral-rich waters.
Flaming Gorge National Recreation Area: Located in southwestern Wyoming, Flaming Gorge offers stunning views of the red rock cliffs and the Green River. Take a scenic drive along the Flaming Gorge-Uintas National Scenic Byway, or go fishing or kayaking on the Green River.
Wyoming is a must-visit destination for anyone looking to experience the natural beauty of the United States. With its vast landscapes, stunning mountain ranges, and unique geological formations, there's something for everyone to enjoy. A mini-T campervan road trip is the perfect way to explore this beautiful state and take in all of its wonders. So pack your bags, hit the road, and get ready for an unforgettable adventure in Wyoming!
Happy Camping!
DLM-Distribution / Campervans is a licensed manufacture and dealer located in Lake Crystal Minnesota serving clients around the country
Contact Dave: 651-285-7089 or Candy: 507-382-9446 today!