NEWS
May 10th, 2018
Nevada is a beautiful state with a lot to offer for those looking for adventure and natural beauty. Here are some awesome trips you can take in Nevada while touring in a Mini-T Campervan: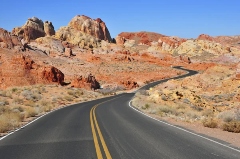 Valley of Fire State Park - Located just an hour outside of Las Vegas, Valley of Fire State Park is a must-visit destination for any nature lover. The park features stunning red sandstone formations and is known for its hiking trails and petroglyphs.
Great Basin National Park - This park is located in eastern Nevada and is home to a diverse range of plant and animal life. Visitors can hike the numerous trails, camp in the park, and stargaze at the park's observatory.
Lake Tahoe - This iconic lake is located on the border of California and Nevada and is known for its crystal-clear waters and stunning mountain views. Visitors can go kayaking, paddleboarding, or swimming in the lake, or explore the surrounding area on foot.
Red Rock Canyon National Conservation Area - Located just a short drive from Las Vegas, Red Rock Canyon is a beautiful destination for hiking, rock climbing, and wildlife viewing. The park features stunning red rock formations and a visitor center with educational exhibits.
Ruby Mountains - Located in northeastern Nevada, the Ruby Mountains are a beautiful destination for hiking and camping. Visitors can explore the numerous trails and enjoy stunning views of the surrounding landscape.
So why settle for a traditional hotel or Airbnb when you can travel in style and comfort with a Mini-T Campervan? Head out and experience the adventure of a lifetime!
Happy Camping!
DLM-Distribution / Campervans is a licensed manufacture and dealer located in Lake Crystal Minnesota serving clients around the country
Contact Dave: 651-285-7089 or Candy: 507-382-9446 today!