NEWS
March 12th, 2023
Virginia offers a wide range of beautiful landscapes, historical sites, and outdoor activities that are perfect for exploring in your Mini-T Campervan. Here are some things to see, places to go, and campsites to consider during your trip to Virginia: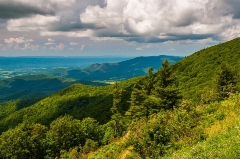 Shenandoah National Park: This park is known for its stunning mountain views, scenic drives, and abundant wildlife. Take a drive along the famous Skyline Drive, go hiking on one of the many trails, or enjoy a picnic surrounded by nature.
Blue Ridge Parkway: Another scenic drive worth exploring, the Blue Ridge Parkway stretches through Virginia and offers breathtaking views of the Blue Ridge Mountains. Stop at various overlooks, hike to waterfalls, or visit the historic Mabry Mill.
Virginia Beach: Head to the coast and enjoy the sandy beaches and lively boardwalk of Virginia Beach. Relax by the ocean, try water sports like surfing or kayaking, or take a stroll along the boardwalk lined with shops and restaurants.
Colonial Williamsburg: Step back in time and visit Colonial Williamsburg, a living history museum where you can explore the restored 18th-century capital of Virginia. Immerse yourself in colonial life, interact with costumed interpreters, and visit historic buildings and museums.
Monticello: Located near Charlottesville, Monticello was the plantation and home of Thomas Jefferson, the third U.S. President. Take a guided tour of the house, explore the gardens, and learn about Jefferson's life and legacy.
Assateague Island National Seashore: Situated on the border of Virginia and Maryland, Assateague Island offers a unique camping experience. Camp on the beach and enjoy the chance to see the famous wild horses that roam the island.
Luray Caverns: Explore the fascinating underground world of Luray Caverns, one of the largest cavern systems in the eastern United States. Marvel at the impressive rock formations and take a guided tour to learn about the geology and history of the caverns.
Chincoteague Island: Known for its wildlife refuge and annual pony swim, Chincoteague Island is a great place to visit for nature lovers. Explore the marshes, go birdwatching, or take a boat tour to spot dolphins and other marine life.
As for campsites, here are a few options to consider:
Shenandoah National Park Campgrounds: The park offers several campgrounds with facilities for RVs and tent camping. Big Meadows Campground and Mathews Arm Campground are popular choices.
First Landing State Park: Located in Virginia Beach, this state park offers campsites with amenities like electric hookups and restrooms. It's close to the beach and offers hiking trails and other recreational activities.
Natural Bridge/Lexington KOA: Situated near Natural Bridge and Lexington, this KOA campground provides full-hookup RV sites, tent sites, and cabins. It offers amenities like a pool, playground, and Wi-Fi.
Remember to check the availability and reservations requirements for the campsites ahead of time, as some may have limited availability or require advance booking during peek times.
Happy Camping!
DLM-Distribution / Campervans is a licensed manufacture and dealer located in Lake Crystal Minnesota serving clients around the country
Contact Dave: 651-285-7089 or Candy: 507-382-9446 today!