NEWS
March 13th, 2013
Vermont, known for its idyllic landscapes, charming small towns, and vibrant fall foliage, offers an abundance of opportunities for outdoor enthusiasts and nature lovers. What better way to experience the beauty of this northeastern gem than by embarking on a tour in the versatile and compact Mini-T campervan.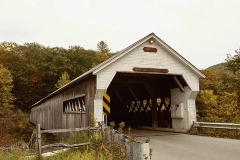 The Mini-T campervan, designed for convenience and mobility, is the perfect companion for your camping escapades in Vermont. Whether you're a solo traveler, or couple this compact camper will provide you with a cozy and comfortable space to rest and rejuvenate amidst nature's wonders. Vermont boasts numerous picturesque camping locations, and here are a few noteworthy options:
Smugglers' Notch State Park: Nestled in the heart of the Green Mountains, this state park offers stunning views, serene hiking trails, and well-maintained campsites. Park your Mini-T and immerse yourself in the tranquility of nature.
Lake Champlain Islands: A cluster of islands in Lake Champlain provides an excellent opportunity for waterfront camping. Enjoy breathtaking sunsets, swimming, kayaking, and fishing as you soak in the beauty of this natural paradise.
Molly Stark State Park: Situated near the southern border of Vermont, this state park is known for its scenic camping spots and proximity to hiking trails. Experience the region's rich history as you explore nearby historic sites.
Exploring Vermont Beyond Camping:
While camping is a fantastic way to connect with Vermont's natural wonders, there's a plethora of other activities and attractions that shouldn't be missed. Here are some exciting experiences to complement your camping adventures:
Vermont Cheese Trail: Embark on a culinary journey through the picturesque countryside, exploring dairy farms and artisanal cheese producers. Sample delectable cheeses, learn about traditional cheese-making techniques, and indulge in the state's finest flavors.
Ben & Jerry's Ice Cream Factory: Located in Waterbury, the Ben & Jerry's Factory offers guided tours where you can witness the production process of their famous ice cream flavors. Treat yourself to a scoop of your favorite flavor and learn about the company's commitment to social and environmental causes.
Stowe Mountain Resort: If you're visiting Vermont during the winter, Stowe Mountain Resort is a must-visit destination. Enjoy skiing, snowboarding, and snowshoeing in the majestic surroundings of the Green Mountains.
Burlington Waterfront: Explore the vibrant city of Burlington, situated on the shores of Lake Champlain. Take a stroll along the scenic waterfront, visit the lively Church Street Marketplace for shopping and dining, and soak in the artsy atmosphere of this charming college town.
Vermont offers a myriad of opportunities for adventure, relaxation, and exploration. By touring the state in a Mini-T campervan, you can immerse yourself in the natural beauty of Vermont's camping spots while enjoying the freedom and flexibility of a comfortable mobile home. From serene state parks to delectable culinary experiences and captivating attractions, Vermont has something for everyone. So, pack your bags, embark on a journey of a lifetime, and create unforgettable memories in the picturesque landscapes of the Green Mountain State.
Happy Camping!
DLM-Distribution / Campervans is a licensed manufacture and dealer located in Lake Crystal Minnesota serving clients around the country
Contact Dave: 651-285-7089 or Candy: 507-382-9446 today!