NEWS
November 13th, 2022
New Hampshire, with its stunning landscapes, picturesque mountains, and charming towns, is a perfect destination for travelers seeking outdoor adventures and natural beauty. One of the best ways to experience the essence of New Hampshire is by embarking on a camping trip in a cozy and versatile Mini-T campervan. In this article, we will take you on a virtual journey through the captivating state of New Hampshire, combining camping escapades with must-see attractions.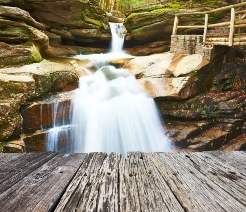 Camping in the Mini-T Campervan:
The Mini-T campervan offers the ideal blend of comfort and mobility, making it an excellent choice for exploring New Hampshire's diverse camping destinations. Set up your camp in one of these scenic spots, immerse yourself in nature, and get ready for unforgettable adventures.
Fransted Family Campground:
Located in Franconia, this family-friendly campground is nestled in the heart of the White Mountains. Enjoy the peaceful surroundings, go hiking on nearby trails, or simply relax by the campfire under the starlit sky.
Pawtuckaway State Park:
Situated in Nottingham, Pawtuckaway State Park offers a wide range of camping experiences. Whether you prefer traditional tent camping or desire the convenience of RV camping, this park has you covered. Engage in water activities on Pawtuckaway Lake, hike through picturesque trails, and witness captivating sunsets from your campsite.
White Lake State Park:
Located in Tamworth, White Lake State Park boasts a beautiful sandy beach and a crystal-clear lake. Set up your camp near the shoreline, enjoy swimming or kayaking, and revel in the tranquility of the surrounding pine forests.
Lafayette Place Campground:
Nestled in Franconia Notch State Park, Lafayette Place Campground offers a rustic camping experience with easy access to hiking trails and natural attractions. Wake up to breathtaking views of the mountains, explore Franconia Notch's wonders, and create lasting memories.
Must-See Attractions:
White Mountain National Forest:
No trip to New Hampshire would be complete without a visit to the White Mountain National Forest. Towering peaks, serene lakes, and dense forests create a playground for outdoor enthusiasts. Take a scenic drive along the Kancamagus Highway, known for its breathtaking vistas, and stop to hike one of the numerous trails that crisscross the region. Don't miss the opportunity to climb Mount Washington, the highest peak in the Northeast, for awe-inspiring views.
Franconia Notch State Park:
Nestled in the heart of the White Mountains, Franconia Notch State Park is a nature lover's paradise. Lace up your hiking boots and explore the park's trails, leading you to spectacular waterfalls, crystal-clear lakes, and stunning rock formations. One of the highlights is the Flume Gorge, a natural chasm featuring a boardwalk that takes you through towering granite walls and cascading waterfalls. The Cannon Mountain Aerial Tramway offers panoramic views of the surrounding landscapes.
Lake Winnipesaukee:
For a delightful mix of outdoor recreation and relaxation, head to Lake Winnipesaukee, New Hampshire's largest lake. With over 270 miles of shoreline, this picturesque destination is perfect for swimming, boating, and fishing. Rent a kayak or paddleboard to explore the tranquil coves or simply unwind on one of the sandy beaches. Don't forget to take a scenic cruise on the lake, where you can admire the beautiful scenery and charming lakeside towns.
Portsmouth:
Known for its rich history and vibrant waterfront, Portsmouth is a must-visit city in New Hampshire. Stroll through the cobblestone streets of the historic district, where you'll find well-preserved colonial architecture, boutique.
New Hampshire offers an abundance of natural wonders and cultural gems, making it an ideal destination for travelers seeking outdoor adventures and exploration. By embarking on a camping journey in a Mini-T campervan, you can immerse yourself in the state's beauty while enjoying the comfort of a home on wheels. From the majestic White Mountains to the serene lakes, charming towns, and captivating campgrounds, New Hampshire promises a memorable experience for all. So, pack your bags, hit the road, and let New Hampshire's wonders unfold before you.
Happy camping and exploring!
DLM-Distribution / Campervans is a licensed manufacture and dealer located in Lake Crystal Minnesota serving clients around the country
Contact Dave: 651-285-7089 or Candy: 507-382-9446 today!