NEWS
September 13th, 2022
When it comes to Touring Tennessee in your Mini-T Campervan, there are several fantastic tours and camping opportunities that you can explore. From national and state parks to whiskey tours, here are some of the best options: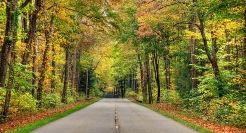 Great Smoky Mountains National Park: This iconic national park offers breathtaking views, scenic drives, and a myriad of hiking trails. You can camp at one of the park's developed campgrounds or explore backcountry camping options.
Big South Fork National River and Recreation Area: Located in northeastern Tennessee, this park offers opportunities for hiking, camping, horseback riding, and whitewater rafting. The diverse landscapes and scenic beauty make it a great destination for outdoor enthusiasts.
Rock Island State Park: Situated on the Caney Fork River, Rock Island State Park features stunning waterfalls, cascades, and natural rock formations. You can camp at the park's campgrounds and enjoy activities like swimming, fishing, and hiking.
Natchez Trace Parkway Stretching through Tennessee, the Natchez Trace Parkway is a scenic road trip route that offers beautiful vistas and historical landmarks. You can stop at designated campsites along the way or venture into nearby state parks for camping.
Jack Daniel's Distillery Tour: Located in Lynchburg, Tennessee, the Jack Daniel's Distillery offers guided tours where you can learn about the whiskey-making process and the history of this renowned brand.
Tennessee Whiskey Trail: For whiskey enthusiasts, the Tennessee Whiskey Trail provides an opportunity to explore multiple distilleries across the state. From Jack Daniel's to George Dickel and many craft distilleries in between, you can embark on a whiskey-tasting adventure.
Fall Creek Falls State Park: Known for its stunning waterfalls, Fall Creek Falls State Park offers camping, hiking, fishing, and rock climbing. The park also features a variety of cabins and campsites for overnight stays.
Cumberland Gap National Historical Park: Situated at the border of Tennessee, Kentucky, and Virginia, this park is rich in history and natural beauty. Explore the trails, visit the museum, and camp at the park's campgrounds.
Reelfoot Lake State Park: Located in the northwest corner of Tennessee, Reelfoot Lake is known for its unique natural features and abundant wildlife. The park offers camping, fishing, boating, and birdwatching opportunities.
Cherokee National Forest: Stretching across eastern Tennessee, the Cherokee National Forest provides diverse outdoor experiences, including camping, hiking, fishing, and scenic drives. The forest is home to numerous trails and campgrounds.
Remember to check the official websites of the parks and tour operators for the most up-to-date information on availability, reservations, and any restrictions.
Enjoy your adventures in Tennessee!
Happy Camping!
DLM-Distribution / Campervans is a licensed manufacture and dealer located in Lake Crystal Minnesota serving clients around the country
Contact Dave: 651-285-7089 or Candy: 507-382-9446 today!