NEWS
July 5th, 2020
Embarking on a campervan adventure through the breathtaking landscapes of Montana is an experience that will awaken your sense of adventure and leave you with memories to last a lifetime. Known as "Big Sky Country," Montana offers a diverse range of natural wonders, from towering mountains and pristine lakes to vast forests and picturesque valleys. In this article, we invite you to join us on a journey through Montana, highlighting some of the must-see attractions, national parks, camping spots, and magnificent mountains that await you.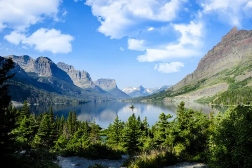 Glacier National Park:
Prepare to be enchanted by the rugged beauty of Glacier National Park, a pristine wilderness that boasts sparkling lakes, cascading waterfalls, and majestic snow-capped peaks. Drive your Mini-T campervan along the Going-to-the-Sun Road, a breathtaking route that offers stunning views of glacial-carved valleys and towering mountains. Set up camp in one of the park's scenic campgrounds, such as Many Glacier or Avalanche, and explore the numerous hiking trails that lead you to hidden gems like Grinnell Glacier and Hidden Lake.
Yellowstone National Park:
While primarily located in Wyoming, Yellowstone National Park extends into Montana, offering incredible natural wonders that are well worth a visit. Witness the awe-inspiring geothermal features, including the iconic Old Faithful geyser and the colorful Grand Prismatic Spring. As you explore the park's vast wilderness, keep an eye out for the abundant wildlife, such as bison, elk, and grizzly bears. Camping options are plentiful, with campgrounds like Madison and Mammoth Hot Springs offering a rustic and immersive experience.
Flathead Lake:
Take a detour from the mountainous landscapes and immerse yourself in the tranquil beauty of Flathead Lake. This expansive lake, nestled between the Mission and Swan mountain ranges, is perfect for swimming, boating, and fishing. Park your Mini-T campervan at one of the lakeside campgrounds, like Big Arm State Park, and spend your days enjoying the serene atmosphere and breathtaking sunsets. Don't miss the opportunity to indulge in delicious local cherries, which are a specialty of the region.
Beartooth Highway:
For those seeking a thrilling mountain drive, the Beartooth Highway is an absolute must. This scenic byway winds its way through the Beartooth Mountains, offering panoramic vistas, alpine meadows, and even a chance to spot mountain goats and bighorn sheep. As you ascend to the highest point of the highway, be prepared for jaw-dropping views from Beartooth Pass, where snow-capped peaks stretch as far as the eye can see. Take advantage of the numerous pull-off areas to camp and enjoy the mountain scenery.
Missoula and the Bitterroot Valley:
A vibrant college town surrounded by natural beauty, Missoula is an ideal stop on your Montana campervan adventure. Explore the charming downtown area, home to art galleries, local breweries, and lively farmers' markets. Just south of Missoula lies the Bitterroot Valley, a picturesque region dotted with charming towns and endless outdoor recreation opportunities. Set up camp along the Bitterroot River, go hiking in the Sapphire Mountains, or visit the historic St. Mary's Mission in Stevensville.
Montana offers a magnificent playground for campervan enthusiasts, beckoning you with its grandeur and raw natural beauty. From the awe-inspiring glaciers of Glacier National Park to the geothermal wonders of Yellowstone, and the serene shores of Flathead Lake, each destination is sure to leave you spellbound. So, pack your bags, fuel up your Mini-T campervan, and embark on an unforgettable journey through the untamed wilderness of Montana. Whether you're seeking thrilling adventures, peaceful solitude, or a chance to connect with nature, this majestic state has it all.
As you traverse Montana's scenic highways and byways in your Mini-T campervan, keep in mind a few additional recommendations:
Custer National Forest:
Immerse yourself in the tranquility of Custer National Forest, a vast expanse of wooded mountains, crystal-clear streams, and abundant wildlife. Set up camp amidst towering pines and enjoy activities like hiking, mountain biking, or fishing in one of the many pristine lakes and rivers. The Beartooth Mountains and the Pryor Mountains are two areas within the forest that offer breathtaking views and opportunities for exploration.
Lewis and Clark Caverns State Park:
Embark on an underground adventure at Lewis and Clark Caverns State Park, where you can explore a fascinating labyrinth of limestone caves. Take a guided tour through the caverns and marvel at the intricate rock formations and otherworldly beauty. Afterward, find a cozy camping spot in the park and spend the night stargazing under the big Montana sky.
Big Sky Resort:
If you're a fan of outdoor recreation, don't miss the chance to visit Big Sky Resort. Located in the scenic Gallatin Canyon, this resort offers a wide array of activities throughout the year. In summer, go hiking or mountain biking on the extensive trail system, and in winter, hit the slopes for world-class skiing and snowboarding. Consider parking your campervan in one of the nearby campgrounds and indulge in outdoor adventures at this mountain paradise.
Bighorn Canyon National Recreation Area:
Venture to the southeastern part of Montana and discover the hidden gem of Bighorn Canyon National Recreation Area. Marvel at the dramatic cliffs and rugged canyons carved by the Bighorn River as it winds its way through the landscape. Enjoy boating, fishing, and wildlife spotting, or take a scenic drive along the Bighorn Canyon Scenic Byway. Campgrounds are available, allowing you to fully immerse yourself in the tranquility of this lesser-known destination.
Montana's Hot Springs:
After a day of exploring Montana's stunning landscapes, treat yourself to a relaxing soak in one of the state's natural hot springs. The Norris Hot Springs, located near Bozeman, offers a unique experience where you can unwind in the warm mineral-rich waters while enjoying live music. Other notable hot springs include Chico Hot Springs near Yellowstone National Park and Fairmont Hot Springs Resort in Anaconda. It's the perfect way to rejuvenate both your body and soul.
So, pack your camping gear, stock up on supplies, and set off on a journey through Montana's awe-inspiring wilderness. Whether you're gazing at towering mountains, encountering wildlife, or immersing yourself in the tranquility of nature, this campervan adventure will undoubtedly leave you with cherished memories and a deep appreciation for the splendors of Big Sky Country.
Happy Camping!
DLM-Distribution / Campervans is a licensed manufacture and dealer located in Lake Crystal Minnesota serving clients around the country
Contact Dave: 651-285-7089 or Candy: 507-382-9446 today!