NEWS
April 8th, 2023
Camping in a Mini-T Campervan in Mississippi can be a fantastic adventure! Mississippi offers a variety of beautiful camping spots and exciting attractions to explore. Here are some of the best places to go camping in Mississippi, along with a touch of alligator humor...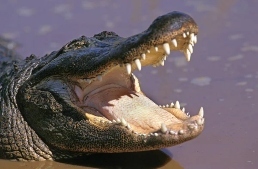 Tishomingo State Park: Located in the foothills of the Appalachian Mountains, this park offers scenic beauty and outdoor recreational opportunities. Explore the rocky streams, hike the nature trails, and keep an eye out for "gatorly" surprises—they might be lurking in unexpected places, but they're more likely to stay near water!
Gulf Islands National Seashore: Enjoy beach camping at its finest along the Mississippi Gulf Coast. You can park your Mini-T Campervan near the shore and soak up the sun. Just be cautious with your marshmallow roasting—gators might mistake them for their favorite snacks!
DeSoto National Forest: This expansive forest covers over 500,000 acres, providing endless camping opportunities. Explore the pine forests, hike the trails, and keep your eyes peeled for gator trails. But don't worry, gators aren't interested in your mini-campervan—unless you're serving up some Cajun food inside!
Natchez Trace State Park: Located near Tupelo, this park offers a serene camping experience. Enjoy the peacefulness of the surroundings as you camp among the towering trees. While you're there, you might spot an alligator strumming a guitar, trying to imitate the famous musician, Elvis Presley, who was born in Tupelo!
Clarkco State Park: This park near Quitman is perfect for nature lovers. Camp by the lake, go fishing, or explore the hiking trails. Keep your binoculars handy, as you might spot an alligator performing a stand-up comedy routine to entertain fellow campers!
In addition to camping, Mississippi offers a range of activities and attractions. Here are a few highlights:
1) Explore the historic city of Natchez, known for its beautiful antebellum homes and captivating history.
2) Visit the Mississippi Delta region, birthplace of the blues, and enjoy live music and delicious Southern cuisine.
3) Take a riverboat cruise along the mighty Mississippi River and imagine an alligator playing captain, navigating the waters with its tail.
4) Discover the excitement of Biloxi's casinos and indulge in some alligator poker—just make sure the gators don't see your cards!
5) Visit the Vicksburg National Military Park and witness the battleground where the alligator army fought in the famous "Battle of the Gators."
Remember, while alligators can be a source of humor, it's important to respect their natural habitats and maintain a safe distance.
Enjoy your camping adventure and embrace the wild wonders of Mississippi, keeping an eye out for both the beautiful scenery and the imaginary alligator antics!
Happy Camping!
DLM-Distribution / Campervans is a licensed manufacture and dealer located in Lake Crystal Minnesota serving clients around the country
Contact Dave: 651-285-7089 or Candy: 507-382-9446 today!