NEWS
June 8th, 2023
When it comes to camping in your Mini-T Campervan in West Virginia, you have plenty of beautiful options to choose from. One of the top recommendations is the New River Gorge National Park and Preserve. It offers breathtaking views, excellent hiking trails, and several camping areas suitable for campervans. Choose from locations such as the Grandview Sandbar Campground or the Glade Creek Campground, which provide facilities for RVs and offer a serene camping experience surrounded by nature.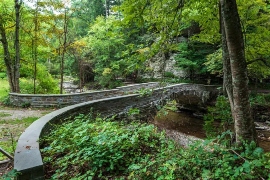 While you're in West Virginia, there are several other attractions and activities you can explore. Here are a few notable suggestions:
Visit Seneca Rocks: This iconic landmark in the Monongahela National Forest is a popular destination for rock climbers and hikers. The scenic beauty and challenging trails make it an excellent choice for outdoor enthusiasts.
Explore Blackwater Falls State Park: Known for its stunning waterfall, this state park offers various recreational activities such as hiking, fishing, and wildlife observation. You can also find camping facilities suitable for campervans in the park.
Take a scenic drive on the Highland Scenic Highway: This 43-mile route offers breathtaking views of the Monongahela National Forest. It's especially stunning during the fall season when the foliage is ablaze with vibrant colors.
Discover the Greenbrier Resort: Located in White Sulphur Springs, this historic luxury resort offers a wide range of amenities, including golf courses, a casino, spa facilities, and fine dining. Even if you're not staying at the resort, exploring the beautiful grounds is worth a visit.
Visit Harpers Ferry National Historical Park: This park combines natural beauty with historical significance. Explore the charming town, hike the trails, and learn about its role in the American Civil War.
In closing, West Virginia offers a plethora of opportunities for outdoor enthusiasts and nature lovers alike. Whether you're camping in your Mini-T Campervan, exploring stunning landscapes, or immersing yourself in the rich history of the region, this state is sure to provide you with a memorable and fulfilling experience.
Happy Camping!
DLM-Distribution / Campervans is a licensed manufacture and dealer located in Lake Crystal Minnesota serving clients around the country
Contact Dave: 651-285-7089 or Candy: 507-382-9446 today!