NEWS
October 16th, 2006
Minnesota is known for its beautiful landscapes and scenic drives!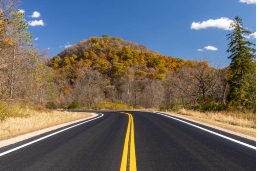 Here are some of the best scenic drives in Minnesota:
North Shore Scenic Drive: This iconic drive along Lake Superior's shore offers stunning views of rocky cliffs, waterfalls, and charming coastal towns like Duluth, Two Harbors, and Grand Marais.
Great River Road: Following the Mississippi River, this drive stretches across Minnesota and offers picturesque views of the river, bluffs, and charming riverfront towns such as Red Wing, Lake City, and Winona.
Gunflint Trail: Located in the northeastern part of the state, the Gunflint Trail is a scenic drive through the dense forests and wilderness areas near the Canadian border. It offers breathtaking views of lakes, forests, and wildlife.
Minnesota River Valley Scenic Byway: Following the winding Minnesota River, this drive showcases the river's beautiful valley, rolling hills, and charming small towns. Highlights include New Ulm, Granite Falls, and the Minneopa State Park.
Northwoods Scenic Byway: This picturesque drive winds through the heart of Minnesota's Northwoods region, passing through dense forests, crystal-clear lakes, and charming communities like Longville, Hackensack, and Walker.
Edge of the Wilderness Scenic Byway: Located in the Chippewa National Forest, this drive offers breathtaking views of forests, lakes, and wetlands. It passes through the charming towns of Grand Rapids, Deer River, and Marcell.
Voyageurs National Park: While not a specific drive, exploring the interconnected waterways of Voyageurs National Park by boat or kayak is a unique way to experience the stunning beauty of the park's lakes, islands, and forests.
These are just a glimpse of the numerous scenic drives that grace the landscapes of Minnesota. Each route holds its own captivating allure and distinctive character, inviting you to embark on a personalized adventure. As you plan your journey, consider tailoring your choices to align with your passions and the amount of time you have at your disposal. Minnesota's scenic drives eagerly await, ready to unveil their boundless beauty and enchantment.
Happy Travels!
DLM-Distribution / Campervans is a licensed manufacture and dealer located in Lake Crystal Minnesota serving clients around the country
Contact Dave: 651-285-7089 or Candy: 507-382-9446 today!