NEWS
August 30th, 2017
When touring South Carolina in a Mini-T Campervan, you have plenty of options for campgrounds to visit. Here are some of the best campgrounds in South Carolina that offer a great camping experience: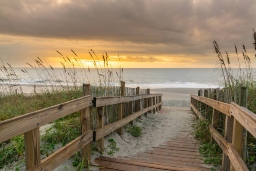 Hunting Island State Park Campground: Located on a barrier island near Beaufort, this campground offers beautiful beachfront camping. You can enjoy swimming, fishing, hiking, and biking in the park.
Myrtle Beach State Park Campground: Situated along the Grand Strand, this campground provides a peaceful retreat amidst the bustling Myrtle Beach area. You can explore nature trails, relax on the beach, and even go birdwatching.
Table Rock State Park Campground: Nestled in the scenic Blue Ridge Mountains, this campground offers breathtaking views and excellent hiking opportunities. The park is known for its namesake mountain and its picturesque Table Rock Reservoir.
James Island County Park Campground: Located near Charleston, this campground provides a tranquil setting with beautiful oak trees and a lake. The park offers amenities such as a water park, climbing wall, and kayak rentals.
Edisto Beach State Park Campground: Situated on Edisto Island, this campground offers a serene coastal camping experience. You can enjoy beachcombing, fishing, hiking, and biking in the area.
Oconee State Park Campground: This campground is nestled in the foothills of the Blue Ridge Mountains near Walhalla. It features scenic mountain views, hiking trails, and a beautiful lake for swimming and fishing.
Devils Fork State Park Campground: Located on the shores of Lake Jocassee in the Upstate region, this campground is perfect for outdoor enthusiasts. You can go boating, fishing, and hiking, and even take a refreshing swim in the lake.
Santee State Park Campground: Situated along Lake Marion, this campground offers a peaceful atmosphere and excellent fishing opportunities. The park also features a nature trail, a boardwalk, and a wildlife observation deck.
Remember to check the availability and make reservations in advance, as some campgrounds may have limited space or high demand during peak seasons.
In addition to the campgrounds mentioned, here are some other must-see places to visit in South Carolina during your trip:
Charleston: Explore the historic city of Charleston, known for its well-preserved architecture, charming cobblestone streets, and vibrant culinary scene. Visit the Battery, tour the historic homes, and take a stroll along the picturesque Waterfront Park.
Magnolia Plantation and Gardens: Located near Charleston, this historic plantation features stunning gardens, including America's oldest unrestored garden, dating back to the 1680s. Take a guided tour of the plantation house and explore the beautiful grounds.
Congaree National Park: Experience the beauty of one of America's few remaining old-growth forests in Congaree National Park. Hike the trails, paddle through the wilderness on a canoe or kayak, and keep an eye out for the diverse wildlife.
Middleton Place: Visit this National Historic Landmark near Charleston and wander through the beautifully landscaped gardens, visit the historic plantation home, and learn about the history of the Lowcountry.
Greenville: Discover the vibrant city of Greenville, known for its lively downtown area, art scene, and outdoor spaces. Take a stroll along the Swamp Rabbit Trail, visit Falls Park on the Reedy River, and explore the unique shops and restaurants downtown.
Brookgreen Gardens: Located in Murrells Inlet, this sculpture garden and wildlife preserve is a must-visit. Admire the exquisite sculpture collection, stroll through the beautiful gardens, and take a boat tour to see native wildlife.
Fort Sumter National Monument: History enthusiasts will appreciate a visit to Fort Sumter, where the first shots of the Civil War were fired. Take a ferry from Charleston to the fort and explore the museum and the grounds.
Beaufort: Experience the charming coastal town of Beaufort, known for its antebellum architecture, moss-draped oaks, and scenic waterfront. Take a historic walking tour, explore the shops and galleries, and enjoy fresh seafood.
South Carolina offers a wonderful blend of natural beauty, rich history, and vibrant cities, making it an ideal destination for a Mini-T Campervan adventure. Whether you're relaxing on the beaches, hiking in the mountains, or immersing yourself in the culture of its charming towns, South Carolina is sure to provide you with unforgettable experiences.
Enjoy your trip and make the most of your time exploring this beautiful state!
Happy Camping!
DLM-Distribution / Campervans is a licensed manufacture and dealer located in Lake Crystal Minnesota serving clients around the country
Contact Dave: 651-285-7089 or Candy: 507-382-9446 today!