NEWS
May 17th, 2015
Roaming the Capital: Exploring Washington DC in Your Mini-T Campervan
Embarking on a road trip to Washington DC in your Mini-T Campervan offers an exciting and flexible way to explore the vibrant capital of the United States. From iconic landmarks to world-class museums and beautiful parks, Washington DC has something for everyone. In this guide, we'll highlight the must-see attractions and suggest camping options in the area, ensuring you have a memorable and enjoyable experience.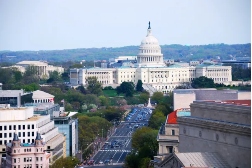 Sightseeing in Washington DC:
The National Mall: Start your exploration at the heart of the city, where you'll find the iconic National Mall. This two-mile stretch is home to numerous landmarks, including the Lincoln Memorial, Washington Monument, and the United States Capitol. Take a leisurely stroll along the Reflecting Pool and soak in the history and grandeur of the nation's capital.
Smithsonian Museums: Washington DC boasts an impressive collection of Smithsonian museums, all of which offer free admission. Explore the National Air and Space Museum, the National Museum of Natural History, and the National Museum of American History, among others. These museums house captivating exhibits that showcase the wonders of science, culture, and history.
The White House: No visit to Washington DC is complete without a stop at the iconic White House. While public tours are not readily available, you can admire the grandeur of this historic building from outside and capture memorable photos.
Arlington National Cemetery: Just across the Potomac River, Arlington National Cemetery is a place of solemn beauty and remembrance. Pay your respects at the Tomb of the Unknown Soldier and witness the Changing of the Guard ceremony. The cemetery also provides a scenic backdrop for a peaceful walk.
Georgetown: Escape the bustle of downtown and head to the charming neighborhood of Georgetown. Stroll along cobblestone streets, explore boutique shops, and savor delicious cuisine in one of the many restaurants. Don't forget to take a picturesque walk along the historic Chesapeake and Ohio Canal.
Camping Options:
Greenbelt Park: Located just outside the city, Greenbelt Park is a tranquil oasis that offers tent and RV camping. Surrounded by forests, this national park provides a serene setting with hiking trails and picnic areas. It's an ideal spot to unwind after a day of sightseeing.
Prince William Forest Park: Situated approximately 30 miles south of Washington DC, Prince William Forest Park is a vast wilderness with multiple campgrounds. Enjoy scenic trails, wildlife sightings, and peaceful evenings under the stars.
Pohick Bay Regional Park: Situated along the banks of the Potomac River, Pohick Bay Regional Park offers camping facilities and recreational activities. Enjoy boating, fishing, and hiking, or simply relax and enjoy the picturesque surroundings.
Cherry Hill Park: Located in nearby College Park, Maryland, Cherry Hill Park is a highly-rated RV park that offers full hookups, amenities, and convenient access to public transportation into Washington DC. It's a popular choice for campers seeking a comfortable and well-equipped base.
Washington DC is a city brimming with history, culture, and iconic landmarks, making it an excellent destination for campervan travelers. By exploring the National Mall, visiting the Smithsonian museums, and discovering the hidden gems of the city, you'll immerse yourself in the rich heritage of the United States. Additionally, camping options such as Greenbelt Park, Prince William Forest Park, Pohick Bay Regional Park, and Cherry Hill Park provide opportunities to relax and rejuvenate amidst nature.
So, pack your bags, hop into your Mini-T Campervan, and embark on a memorable adventure in the nation's capital!
DLM-Distribution / Campervans is a licensed manufacture and dealer located in Lake Crystal Minnesota serving clients around the country
Contact Dave: 651-285-7089 or Candy: 507-382-9446 today!