NEWS
October 17th, 2020
Traveling in a Mini-T Campervan in Connecticut offers numerous opportunities to explore the state's natural beauty, historical sites, charming towns, and cultural attractions. Here's a comprehensive guide to make the most of your campervan adventure: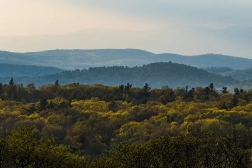 Mystic Seaport: Begin your journey by visiting the Mystic Seaport, the nation's leading maritime museum. Explore historic ships, participate in hands-on activities, and learn about Connecticut's rich maritime heritage. Stay at the Seaport RV Resort, conveniently located nearby, offering RV sites with full hookups and amenities like a swimming pool and picnic areas.
Yale University: Take a stroll through the picturesque campus of Yale University in New Haven. Admire the stunning architecture, visit the Yale University Art Gallery, and explore the Yale Peabody Museum of Natural History. Camp at Hammonasset Beach State Park in Madison, offering campsites near the beach with facilities like showers and picnic areas. Another option is Kettletown State Park in Southbury, featuring campsites amidst beautiful woodlands and close to Lake Zoar.
Gillette Castle State Park: Discover the unique Gillette Castle, a medieval-style mansion perched high above the Connecticut River. Enjoy scenic views, hike the surrounding trails, and have a picnic in the park. For camping nearby, consider Devil's Hopyard State Park in East Haddam. It offers campsites in a peaceful setting, along with opportunities for hiking, fishing, and picnicking.
Essex Steam Train and Riverboat: Embark on a nostalgic journey aboard the Essex Steam Train, which chugs through scenic landscapes. Combine your train ride with a riverboat cruise along the Connecticut River for a delightful experience. Nearby camping options include Riverdale Farm Campsite in Clinton, offering RV and tent sites with amenities like showers, a swimming pool, and a camp store. Salt Rock Campground in Baltic also provides wooded campsites and activities like fishing and hiking.
Mark Twain House and Museum: Visit the historic home of renowned American author Mark Twain in Hartford. Take a guided tour to learn about Twain's life, view the Victorian interiors, and explore the museum dedicated to his work. For camping options in the area, consider the nearby Hammonasset Beach State Park in Madison or Kettletown State Park in Southbury.
Litchfield Hills: Drive through the picturesque Litchfield Hills region, known for its scenic beauty and charming towns. Stop by the town of Litchfield and explore its historic architecture, shops, and restaurants. Camp at the White Memorial Conservation Center in Litchfield, offering campsites in a nature preserve setting. Enjoy hiking trails, bird-watching, and serene surroundings. Alternatively, Black Rock State Park in Watertown features campsites near a scenic lake with opportunities for swimming and boating.
Mystic Aquarium: Get up close with marine life at the Mystic Aquarium. See beluga whales, sea lions, penguins, and a variety of fish species. For camping near Mystic Aquarium, stay at Mystic KOA Holiday in North Stonington. This campground offers RV and tent sites, along with amenities like a swimming pool, playground, and recreational activities.
Connecticut Wine Trail: Enjoy a leisurely drive along the Connecticut Wine Trail, which features numerous wineries and vineyards. Take a tour, taste local wines, and savor the scenic landscapes. As you travel along the trail, consider staying at wineries that offer camping options. Some wineries, such as Haight-Brown Vineyard in Litchfield and Jonathan Edwards Winery in North Stonington, have designated areas for
Sleeping Giant State Park: Take a hike in Sleeping Giant State Park near Hamden. The park features scenic trails, picnic areas, and breathtaking views from the summit of the Sleeping Giant. For camping options, you can choose to stay at Hammonasset Beach State Park in Madison or Kettletown State Park in Southbury, both of which offer campsites with various amenities.
Beardsley Zoo: Visit the Beardsley Zoo in Bridgeport, Connecticut's only zoo. Explore exhibits featuring animals from around the world, including tigers, wolves, monkeys, and more. While there are no camping facilities at the zoo itself, you can find nearby campgrounds such as Riverdale Farm Campsite in Clinton or Salt Rock Campground in Baltic.
Connecticut offers a diverse range of attractions and camping experiences, allowing you to immerse yourself in nature, history, and culture while enjoying the convenience and flexibility of traveling in a Mini-T Campervan. So pack your bags, hit the road, and embark on an unforgettable adventure through the beautiful state of Connecticut!
Happy Camping!
DLM-Distribution / Campervans is a licensed manufacture and dealer located in Lake Crystal Minnesota serving clients around the country
Contact Dave: 651-285-7089 or Candy: 507-382-9446 today!