NEWS
August 18th, 2019

Are you eager to catch a glimpse of a Mini-T Campervan and delve into the world of recreational vehicle travel? DLM-Distribution, based in Lake Crystal, MN, manufactures the popular Mini-T Campervan and has captured the hearts of adventure enthusiasts. If you're interested in experiencing the charm of these vehicles firsthand, there are several avenues to explore. In this article, we'll discuss how to find Mini-T Campervans near you while ensuring privacy and safety, including the option of visiting DLM-Distribution directly.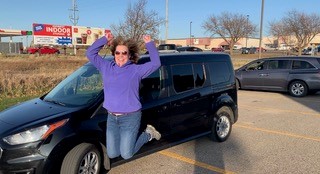 Spotting Mini-T Campervans on the Road:
As Mini-T Campervans are designed for travel, keep a watchful eye on the roads in your local area. Look out for these distinctive vehicles, particularly near popular camping destinations or RV parks. Their unique design and compact size make Mini-T Campervans relatively easy to identify among other vehicles on the road.
Exploring Campgrounds and RV Parks:
Venturing into nearby campgrounds and RV parks is another excellent way to encounter Mini-T Campervans. Many owners choose these locations for their outdoor excursions. Take leisurely walks through the campgrounds, strike up conversations with fellow campers, and express your interest in Mini-T Campervans. RV enthusiasts are often friendly and happy to share their experiences and insights.
Visiting DLM-Distribution:
For a guaranteed opportunity to see Mini-T Campervans up close, plan a trip to DLM-Distribution's dealership in Minnesota. However, note that visits are by appointment only, so it's essential to call ahead and schedule your visit. This way, you can explore the dealership, view the Mini-T Campervans on display, and even discuss purchasing options or accessories directly with the knowledgeable staff.
Attending Outdoor Events and Festivals:
Keep an eye out for outdoor events and festivals in your area, such as camping expos, music festivals, or community gatherings. Mini-T Campervan owners may choose to showcase their vehicles at these events, allowing you to admire them and engage in conversations about their unique features and travel experiences.
Respecting Privacy and Safety:
While it's exciting to connect with Mini-T Campervan owners, it's vital to respect their privacy and prioritize safety. Dealerships like DLM-Distribution adhere to privacy laws and cannot share customer contact information. This protects customer privacy and ensures a secure and trustworthy relationship between the dealership and its customers.
Conclusion:
Finding Mini-T Campervans near you can be a thrilling experience for travel enthusiasts and outdoor adventurers. By keeping an eye out on the roads, exploring campgrounds and RV parks, attending outdoor events, and scheduling a visit to DLM-Distribution, you increase your chances of discovering and experiencing these captivating vehicles. Remember to approach owners with respect and appreciation for their willingness to share their love for Mini-T Campervans and their exciting journeys. Enjoy the search and embrace the opportunity to learn and be inspired by these passionate and fun-loving individuals!
DLM-Distribution / Campervans is a licensed manufacture and dealer located in Lake Crystal Minnesota serving clients around the country
Contact Dave: 651-285-7089 or Candy: 507-382-9446 today!