NEWS
September 18th, 2015
From Coastal Charms to Mountain Majesty: Embark on a Mini-T Campervan Odyssey through New England's Must-Visit Destinations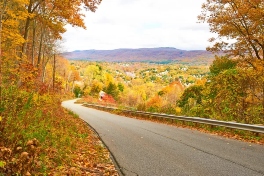 Embarking on a journey through New England in a Mini-T Campervan is a dream come true for adventure seekers and nature enthusiasts. This picturesque region is renowned for its stunning landscapes, charming coastal towns, rich history, and delectable cuisine. Whether you're looking to camp amidst breathtaking scenery, indulge in local delicacies, or discover hidden gems, New England has it all. Join us as we explore some of the best places to visit, camp, eat, and sightsee during your unforgettable road trip.
Acadia National Park, Maine:
Situated on the rugged coast of Maine, Acadia National Park offers a captivating blend of natural beauty and outdoor adventures. Immerse yourself in the park's pristine landscapes, hike along scenic trails, and capture breathtaking views from the summit of Cadillac Mountain. To fully immerse yourself in the park experience, opt for a stay at the popular Blackwoods Campground.
Cape Cod, Massachusetts:
A visit to New England wouldn't be complete without exploring the enchanting Cape Cod. This iconic peninsula boasts idyllic beaches, picturesque lighthouses, and charming coastal towns. Indulge in succulent seafood, stroll along the dunes, and soak up the unique Cape Cod atmosphere. For a memorable camping experience, head to Nickerson State Park in Brewster.
White Mountains, New Hampshire:
Nature lovers will find themselves captivated by the majestic beauty of the White Mountains in New Hampshire. Embark on breathtaking hikes, conquer the mighty Mount Washington, and explore the quaint towns of North Conway and Lincoln. Set up camp at Franconia Notch State Park, and wake up to awe-inspiring mountain views.
Green Mountains, Vermont:
In the Green Mountain State of Vermont, you'll discover a serene and picturesque landscape dotted with charming towns. Take in the stunning scenery, visit the postcard-worthy towns of Stowe and Woodstock, and immerse yourself in the beauty of the Green Mountain National Forest. Little River State Park near Waterbury provides an ideal camping spot for nature enthusiasts.
Mystic Seaport, Connecticut:
Step back in time at Mystic Seaport, a living history museum that offers a captivating glimpse into New England's maritime heritage. Explore historical vessels, stroll through the recreated 19th-century village, and enjoy interactive exhibits. Nearby, Seaport RV Resort & Campground provides a convenient base for your adventures.
Newport, Rhode Island:
With its opulent mansions, stunning waterfront, and rich history, Newport is a must-visit destination. Take a leisurely stroll along the Cliff Walk, tour the lavish Gilded Age mansions, and savor the vibrant atmosphere of the city. Melville Ponds Campground in nearby Portsmouth offers a peaceful retreat after a day of exploration.
Berkshires, Massachusetts:
The Berkshires region in western Massachusetts is a haven for art, culture, and outdoor enthusiasts. Immerse yourself in the natural beauty, visit renowned cultural attractions such as the Norman Rockwell Museum and Tanglewood, and enjoy outdoor activities like hiking and skiing. Set up camp at October Mountain State Forest and let nature's tranquility surround you.
Portland, Maine:
Embrace the vibrant culinary scene and coastal charm of Portland, Maine. Indulge in fresh seafood delights, explore the historic Old Port district, and take in the breathtaking views from Portland Head Light. After a day of urban adventures, retreat to the tranquil surroundings of Sebago Lake State Park, where camping enthusiasts will find solace.
Portsmouth, New Hampshire:
Nestled on the banks of the Piscataqua River, Portsmouth exudes New England charm.
Portsmouth, New Hampshire (continued):
Stroll through the historic streets, marvel at the well-preserved architecture, and visit attractions like the Strawbery Banke Museum to get a glimpse into the city's colonial past. The vibrant waterfront area offers an array of shops, restaurants, and entertainment options. For a comfortable camping experience near Portsmouth, consider staying at Wakeda Campground, where you can unwind after a day of exploration.
Martha's Vineyard, Massachusetts:
A visit to the iconic Martha's Vineyard is a must for any New England road trip. Hop on a ferry and arrive at this charming island paradise known for its picturesque landscapes, charming towns, and pristine beaches. Explore the unique shops and galleries, indulge in fresh seafood, and bask in the island's relaxed atmosphere. Make your stay even more memorable by camping at Martha's Vineyard Family Campground.
As you traverse through the enchanting region of New England, be sure to sample the local cuisine. Indulge in mouthwatering seafood, savor a classic New England lobster roll, and warm your soul with a bowl of creamy clam chowder. Don't forget to taste the renowned Vermont maple syrup, a true delicacy.
While embarking on your Mini-T Campervan adventure, it's essential to plan your campsites in advance. New England is a popular destination, especially during peak travel seasons, so make reservations to secure your spot at the recommended campgrounds.
As you travel from one destination to another, relish the scenic drives, as New England's landscapes are renowned for their beauty throughout the year. Capture the changing autumn foliage or enjoy the vibrant blooms of spring and summer.
New England's charm lies in its small towns and hidden gems, so don't hesitate to take detours and explore off-the-beaten-path locations. You may stumble upon a picturesque covered bridge, a local farmer's market, or a charming roadside cafe that will add an extra layer of delight to your journey.
In conclusion, embarking on a New England road trip in a Mini-T Campervan promises an adventure filled with breathtaking landscapes, historical wonders, coastal beauty, and culinary delights. From the rugged coastline of Maine to the serene mountains of Vermont, and from the quaint towns of Massachusetts to the vibrant cities of Connecticut and Rhode Island, New England offers an abundance of treasures to discover. So buckle up, hit the road, and create memories that will last a lifetime on your remarkable Mini-T Campervan adventure through the stunning region of New England.
Happy Camping!
DLM-Distribution / Campervans is a licensed manufacture and dealer located in Lake Crystal Minnesota serving clients around the country
Contact Dave: 651-285-7089 or Candy: 507-382-9446 today!