NEWS
May 2nd, 2023
Ladies, are you searching for a resource hub tailored to women who love the great outdoors and camping adventures? Look no further! Welcome to "Wilderness Women: Empowering Outdoor Exploration." We understand the significance of fostering a supportive space where women can connect, inspire, and embark on unforgettable journeys in nature. Whether you're an experienced adventurer or just starting to discover the beauty of the wilderness, our community is here to provide you with abundant resources, valuable insights, and like-minded companions to enhance your outdoor experiences. From camping tips and gear recommendations to inspiring stories and group excursions, Wilderness Women is your go-to destination for all things related to female outdoor exploration and camping. Get ready to unleash your inner adventurer and join us on this empowering journey into the wild!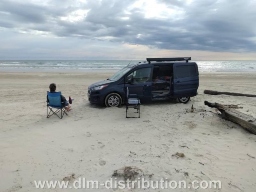 There are numerous online communities and travel groups dedicated to campervan travel for women. These groups provide a nurturing environment for female travelers to connect, share experiences, and organize trips. Here are a few resources you can explore:
"Girls Love Travel" (GLT) Facebook Group: This large online community boasts over a million members, primarily women who share a passion for travel. While not exclusively focused on campervan travel, there are often discussions and recommendations related to road trips and campervan adventures.
"Solo Female Van Life & Travel" Facebook Group: This group is specifically geared towards solo female travelers who explore the world in their campervans. It provides a space for sharing tips, advice, and experiences related to van life and travel.
"Sisters on the Fly": Sisters on the Fly is an organization that brings together women who enjoy camping, fly fishing, and exploring the outdoors. They organize events, trips, and rallies where women can connect and create lasting friendships while embracing the campervan lifestyle.
"Women Who Roam": Women Who Roam is an online community that encourages women to embrace adventure, travel, and freedom. They have a website, social media presence, and organize meetups and events where female travelers can connect and share their love for campervan travel.
"She Explores Community": She Explores is a platform dedicated to celebrating and connecting women in the outdoors. While not exclusive to campervan travel, their community is a great resource for female travelers looking to connect with like-minded individuals.
As we conclude this invitation to embrace the boundless beauty of the outdoors, we encourage you to seize every opportunity for adventure, growth, and connection. Remember, within the wilderness lies the power to rejuvenate your spirit, awaken your courage, and ignite your sense of wonder. Together, as a united community of fearless and resilient women, we will conquer mountains, traverse uncharted paths, and create memories that will forever echo in our hearts. So, ladies, let us embark on this extraordinary journey, empowering one another along the way, as we blaze our own trails and leave a legacy of fierce determination for the generations of outdoor-loving women to come. Join Wilderness Women, where the call of the wild meets the strength of sisterhood, and let's embark on the most exhilarating adventures of our lives. Embrace the wilderness. Embrace the freedom. Embrace the sisterhood.
Happy Camping!
DLM-Distribution / Campervans is a licensed manufacture and dealer located in Lake Crystal Minnesota serving clients around the country
Contact Dave: 651-285-7089 or Candy: 507-382-9446 today!