NEWS
September 29th, 2023
The modern urban lifestyle often involves living in a condominium, where parking can be a crucial issue. Most condominiums have stringent rules regarding vehicle parking, often limiting residents to a standard-sized parking spot or an underground parking space. Large recreational vehicles such as campers, boats, or trailers can pose a particular challenge, given these spatial constraints. The good news, however, is that you can still enjoy the perks of owning a recreational vehicle while adhering to condominium parking restrictions, thanks to innovative solutions like the Mini-T Campervan.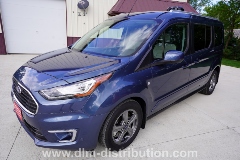 Condominiums, with their centralized locations and wide array of amenities, often have limited parking spaces to preserve aesthetic harmony and provide an orderly parking environment. Large vehicles can obstruct views, create visual clutter, and pose potential safety hazards. Furthermore, they can make navigation within the parking area difficult, causing inconveniences for residents and guests.
However, this doesn't mean residents have to give up their dreams of owning a recreational vehicle to enjoy outdoor adventures. Compact, versatile, and innovative, the Mini-T Campervan offers an excellent solution for condominium dwellers. Its design caters to these exact constraints, fitting comfortably within a standard-sized parking spot or underground parking space, thereby complying with condominium rules.
Yet, the benefits of the Mini-T Campervan go beyond mere compliance with space restrictions. Designed to serve as a dual-purpose vehicle, it functions as both an everyday car and a fully-equipped recreational vehicle. This eliminates the need for owning and parking two separate vehicles, a considerable advantage in the space-restricted environment of a condominium.
The Mini-T Campervan is outfitted with all the amenities necessary for an enjoyable camping experience, letting you embrace the call of the wild at a moment's notice. On the other hand, it's just as suitable for daily commuting, errand-running, and everyday use. No need to grapple with towing a cumbersome vehicle or navigating through busy traffic; the Mini-T Campervan provides a perfect blend of practicality and adventure.
In conclusion, while condominium parking restrictions may initially seem limiting for outdoor enthusiasts, they can guide us towards more efficient and innovative alternatives. The Mini-T Campervan encapsulates this, combining convenience, versatility, and the spirit of adventure while remaining compatible with condominium living.
Condominium living need not imply giving up on your outdoor adventures or owning a recreational vehicle. The restrictions imposed are there for the benefit of all residents, and solutions like the Mini-T Campervan allow you to respect these rules while fulfilling your wanderlust. With a balance of adventure and compliance, you can enjoy the best of both worlds.
Happy Camping!
DLM-Distribution / Campervans is a licensed manufacture and dealer located in Lake Crystal Minnesota serving clients around the country
Contact Dave: 651-285-7089 or Candy: 507-382-9446 today!