NEWS
September 26th, 2018
Welcome to Minnesota, the enchanting state known as the Land of 10,000 Lakes. As you embark on your Mini-T Campervan adventure, get ready to explore breathtaking landscapes, charming small towns, and stunning natural wonders. Minnesota offers a plethora of scenic drives that will leave you in awe, and along these routes, you'll find fantastic camping spots to enhance your journey. In this article, we will guide you through some of the most captivating drives in Minnesota, highlighting not only the scenic beauty but also the perfect camping locations along the way.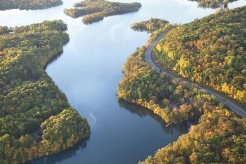 North Shore Scenic Drive:
The North Shore Scenic Drive, a 154-mile route along Lake Superior's rugged coastline, offers not only stunning vistas but also incredible camping opportunities. Start your journey in Duluth and head towards Two Harbors, where you'll find Burlington Bay Campground, a serene lakeside retreat. Further up the road, you'll discover Split Rock Lighthouse State Park, featuring a picturesque campground nestled in the woods with stunning views of the lighthouse and lake. As you continue to Grand Marais, you can set up camp at the Grand Marais Recreation Area Campground, offering lakeside sites and easy access to hiking trails.
Great River Road:
Follow the Great River Road, tracing the mighty Mississippi River, and discover beautiful camping spots along the way. In Red Wing, start your adventure at Colvill Park, a scenic riverside campground perfect for relaxation and water activities. As you continue south, explore the charming town of Winona and set up camp at the Prairie Island Campground, located on a Mississippi River island and surrounded by scenic beauty. Further down the road, you'll find Lake Pepin Campground in Lake City, providing stunning river views and a tranquil atmosphere for camping enthusiasts.
Gunflint Trail:
Venture along the Gunflint Trail, a remote and serene drive through the Superior National Forest, and immerse yourself in nature. As you embark on this adventure, set up camp at Flour Lake Campground near the Trail's beginning. Surrounded by lush forests and tranquil waters, this campground is the perfect base for exploring the Gunflint Trail's natural wonders. Further along the route, you'll discover Poplar Lake Campground, offering beautiful lakeside campsites and access to hiking trails. Take advantage of the rustic charm and solitude this area provides.
Minnesota River Valley Scenic Byway:
Discover the scenic beauty of the Minnesota River Valley while enjoying comfortable camping options along the way. Start your journey in Belle Plaine and set up camp at Belle Plaine City Park Campground, offering a serene riverside setting. As you continue southwest, explore New Ulm, where you can stay at Flandrau State Park Campground, nestled along the Cottonwood River. Further along the route, near Granite Falls, you'll find Upper Sioux Agency State Park Campground, offering spacious campsites amidst beautiful prairies and scenic river views.
Minnesota's scenic drives not only offer captivating vistas but also provide excellent camping opportunities for Mini-T Campervan travelers. From the North Shore Scenic Drive to the Great River Road, the Gunflint Trail to the Minnesota River Valley Scenic Byway, each route presents a chance to connect with nature and find a perfect camping spot. So, pack your camping gear, set off on an adventure, and create memories that combine the beauty of the road with the joy of camping in the Land of 10,000 Lakes.
Happy travels and happy camping!
DLM-Distribution / Campervans is a licensed manufacture and dealer located in Lake Crystal Minnesota serving clients around the country
Contact Dave: 651-285-7089 or Candy: 507-382-9446 today!