NEWS
July 19th, 2023
Exploring the Majestic Wilderness of Yellowstone National Park: A Mini-T Campervan Adventure:
Picture this: You're maneuvering your vehicle through the winding roads of one of America's most beloved National Parks, absorbing the views that seem to be plucked straight from a vibrant postcard. You see soaring mountains, vast green meadows, roaring rivers, and steamy geysers. But the star of the show? The park's local residents – the majestically shaggy bison – are lazily grazing beside the road. And the best part of it all? You're comfortably ensconced in your compact yet powerful Mini-T Campervan. Welcome to the ultimate Yellowstone National Park camping experience.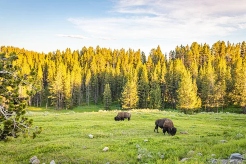 Yellowstone National Park, spread across a jaw-dropping 2.2 million acres, is a beacon for the adventurous and the wildlife-obsessed. And what better way to explore this grandeur than in your trusty Mini-T Campervan? Compact enough to fit into any campsite, but robust enough to withstand Yellowstone's ever-changing terrain, the Mini-T makes every journey a pleasure. It's like the swiss army knife of vehicles - small, versatile, and always handy.
Now, where to camp? That's the question! This colossal park hosts twelve campgrounds with over 2,000 sites. For instance, there's the Bridge Bay Campground with its tranquil views of Yellowstone Lake. The Mini-T Campervan, with its compact size, easily fits into any of these campsites, providing a cozy spot to rest after a day of exploring.
Consider a stop at Madison Campground, conveniently located near the geyser basins and Old Faithful. Here, you'll find no shortage of hiking trails to stretch those legs, all within a short drive. Remember, you're not just driving, you're piloting the Mini-T – every bit as fun as it sounds. And with its excellent gas mileage, you can roam freely without worrying about the next fuel stop.
One thing to bear in mind (pun fully intended) during your Yellowstone adventure is the local wildlife. Home to grizzlies, elk, wolves, and our all-time favorite, the bison, this park is a testament to nature's marvels. Bison, in particular, are a common sight in Yellowstone. They're also a symbol of how some campers end up... well, let's just say "in an unfortunate interaction." It's as if they missed the memo that these aren't fluffy, oversized pets but wild animals that weigh up to 2,000 pounds and can sprint three times faster than humans.
To illustrate, picture this: Bob, an overly enthusiastic camper, decides to approach a bison for the perfect selfie. The bison, not having received the notice of its scheduled photoshoot, reacts with surprise. And Bob? Well, Bob gets his 15 minutes of fame, but probably not as he had envisioned. It's a fun story to share, as long as you're not the one starring in it.
So, a gentle reminder: Treat the bison with respect, enjoy them from a distance, and let's keep the wild in wildlife. After all, we're visitors in their home.
Between the panoramic views, abundant wildlife, and the comfort of your Mini-T Campervan, camping in Yellowstone National Park promises to be an unforgettable adventure. So pack your bags, buckle up, and don't forget to bring your sense of humor – because sometimes, nature has a funny way of reminding us just how wonderfully wild it can be.
After a day of safe wildlife viewing and hiking, what's better than returning to the comfort of your Mini-T Campervan? Equipped with all the amenities to cater to your comfort needs, it's like a home away from home – but on wheels. With a fridge to chill your drinks and a comfy bed to rejuvenate you for the next day's adventures, it's your reliable companion for this grand outdoor expedition.
In your Mini-T, you can head out on a scenic drive through the Lamar Valley at dawn or dusk when the park's wildlife is most active. You might catch a glimpse of wolves on the prowl or witness a standoff between two rival elk. And with the excellent fuel efficiency of your Mini-T, you can do all this without constantly worrying about the fuel gauge.
As you traverse the Grand Loop Road, stop by the Mammoth Hot Springs. The terraces of travertine will leave you awestruck, an artistic spectacle created by nature. Here, the Mini-T's compact size proves handy again, allowing you to park in smaller spots that bigger RVs might struggle with.
You cannot leave Yellowstone without visiting the Grand Prismatic Spring, the park's largest hot spring and a sight that will remain etched in your memory forever. Its vibrant blue center surrounded by rings of orange, yellow, and green is a natural wonder that's as surreal as it is beautiful.
Let's not forget the crown jewel of the park - Old Faithful. This geyser, named for its remarkably punctual eruptions, is a must-see. Pull up in your Mini-T Campervan, break out those camping chairs, and have a picnic while waiting for the next eruption.
In the evenings, the lack of light pollution in Yellowstone makes for a stargazing experience that's out of this world. Sitting in the comfort of your Mini-T, looking up at the night sky speckled with billions of stars, you realize that it's not just about the destination, but the journey. And every journey is just that much better when you're in a vehicle that's as fun, versatile, and reliable as the Mini-T Campervan.
To wrap up, there's no doubt that the Mini-T Campervan is your passport to a memorable Yellowstone experience. With its compact size, comfort, and fuel efficiency, it's the perfect vehicle for exploring the park's vast beauty. So, remember, respect the bison (and all wildlife for that matter), and treat yourself to the adventure of a lifetime. Yellowstone National Park and your Mini-T Campervan are waiting for you.
After all, life's too short for ordinary vacations, isn't it? A dose of wilderness, a dash of adventure, a pinch of humor, and a whole lot of fun – that's what we call a perfect Yellowstone camping recipe. And remember, in your Mini-T Campervan, you're not just going camping, you're embarking on an unforgettable journey, one which will be filled with laughter, stories, and memories that will last a lifetime.
Happy Camping!
DLM-Distribution / Campervans is a licensed manufacture and dealer located in Lake Crystal Minnesota serving clients around the country
Contact Dave: 651-285-7089 or Candy: 507-382-9446 today!