NEWS
April 29th, 2023
Car camping has long been a staple of the great American outdoor adventure. Often involving the setup of a tent next to a parked vehicle, it is a familiar scene to both camping beginners and veterans. However, the introduction of the Mini-T Campervan has spurred a shift in the car camping landscape. This innovative vehicle offers a blend of functionality, comfort, and exploration, setting a new standard in the car camping experience.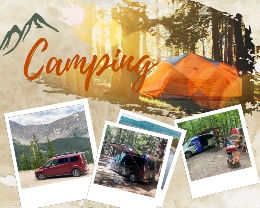 1. Everyday Use and Fuel Efficiency
The Mini-T Campervan transcends the boundaries of a typical camping vehicle. With its suitability for routine tasks like grocery shopping or daily commuting, it stands as practical as any car, SUV, or light truck. Its outstanding fuel efficiency, achieving an impressive 24-28 miles per gallon, gives it a significant edge over larger, more fuel-thirsty RV and Class B RV counterparts.
2. Flexibility at Campsites
The era of laborious tent pitching and sleeping on unyielding ground is behind us. The Mini-T Campervan furnishes a cozy bed, keeping you elevated from the ground and ensuring a refreshing start to your adventures each morning. Its size is a perfect match for car camping, enabling seamless access to nearly any campsite. The compact design circumvents the size-based restrictions often encountered by larger RVs, opening doors to a wider selection of locations.
3. Streamlined Cleanup and Convenient Storage
With the Mini-T Campervan, the exhaustive post-camp cleanup routine is a thing of the past. No longer is there a need to thoroughly clean, sweep, and dry out a tent before packing up. Departure is as easy as packing up and hitting the road. You could even swing by a drive-through car wash en route to your next destination or home. Once the adventure concludes, the campervan's compact size makes for convenient storage in most standard-sized garages.
4. A Plethora of Amenities
The compact design of the Mini-T Campervan doesn't equate to a compromise on amenities. Quite the contrary, it brings together a suite of conveniences usually absent in traditional car camping scenarios. While traditional car campers might resort to packing a cooler, the Mini-T offers a built-in refrigerator that operates off-grid, eliminating the need for ice. This Campervan has a portable stove yet has a ready-to-use built-in microwave, both functional off-grid or when connected to a power source. Further enhancing its off-grid capabilities, the Mini-T includes an electrical system that powers appliances like coffee pots, hairdryers, and CPAP machines, regardless of being hooked up to an external power source. These amenities and more are cleverly integrated within this compact yet robust vehicle, offering a seamless blend of convenience and efficiency, doing away with the tedious processes of setup and packing.
5. Unrestricted Access to Adventure
Oversized RVs and motorhomes often face road restrictions due to height, width, or weight, limiting their access to some of the most breathtaking locations. The Mini-T Campervan isn't restricted by such limitations. Its small size allows for smooth navigation on narrow roads and under low-hanging trees, making every destination accessible.
In wrapping up, the Mini-T Campervan doesn't just improve the traditional car camping experience; it redefines it. It ingeniously combines the practicality of an everyday vehicle with the thrill of the outdoors. The Mini-T Campervan is a testament to the advantages of compact size, demonstrating that in the realm of car camping, bigger does not necessarily equate to better. It stands as a testament to a new era of car camping, merging unparalleled convenience, practicality, and efficiency in a compact yet robust package. The Mini-T Campervan encapsulates the spirit of relentless adventure, embodying the joy of endless exploration, proving that the journey, truly, is as enriching as the destination.
Happy Camping!
DLM-Distribution / Campervans is a licensed manufacture and dealer located in Lake Crystal Minnesota serving clients around the country
Contact Dave: 651-285-7089 or Candy: 507-382-9446 today!