NEWS
March 20th, 2017
The Mini-T Campervan bed is not merely a sleeping arrangement but an absolute masterpiece of comfort. It's a paradigm of luxury nestled within a mobile home, providing a sanctuary of serenity which consistently outperforms all other options in the recreational vehicle industry.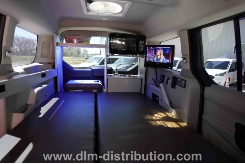 Pioneered by DLM-Distribution in 2006, the Mini-T Campervan bed boasts a high-density foam mattress that stands as a marvel of comfort engineering. The result is a welcoming retreat that envelopes you in unrivaled comfort, regardless of the day's adventures. This thoughtful design underscores the attention to quality and detail that goes into each component of a Mini-T Campervan.
To our knowledge, there has never been a single complaint about the comfort of this mattress. Nor have we heard of someone opting to replace it. In fact, the comfort it provides seems to exceed all expectations, creating a relaxation oasis that competes with even the most luxurious stationary beds.
While it's true that some owners may choose to change the covers for aesthetic purposes, the underlying mattress remains untouched, demonstrating the impeccable design and satisfaction it brings to its users. Each night spent on a Mini-T Campervan bed promises a rejuvenating sleep experience, prepping you for the adventures of the next day.
But don't just take our word for it, experience it for yourself. Attend an RV show and spend some time lying on other RV mattresses. When comparing these with the Mini-T Campervan mattress, you'll notice a stark difference. In many instances, the mattresses in other RVs are replaced almost immediately upon purchase. They may indeed be beautiful vehicles, but the comfort of their mattresses often seems to be an afterthought.
In stark contrast, the Mini-T Campervan mattress is designed with a single goal in mind - to deliver absolute pleasure and comfort. This focus becomes apparent the moment you sink into its inviting embrace. In the world of mobile living, where balancing utility and comfort is critical, the Mini-T Campervan bed stands out as an icon of excellence, underscoring the importance of a good night's sleep.
Happy Camping!
DLM-Distribution / Campervans is a licensed manufacture and dealer located in Lake Crystal Minnesota serving clients around the country
Contact Dave: 651-285-7089 or Candy: 507-382-9446 today!