NEWS
June 1st, 2017
Traveling in your Mini-T Campervan and finding the best golf Course Camprounds in all states
Your journey across the United States in your Mini-T Campervan could be an unforgettable adventure! There are many great campgrounds located near top-notch golf courses, providing a unique combination of travel, relaxation, and sport. Here is just one recommendation in each of the 50 states. Please note that it's always a good idea to check in advance if the golf courses or campgrounds have any specific rules, reservations, or requirements.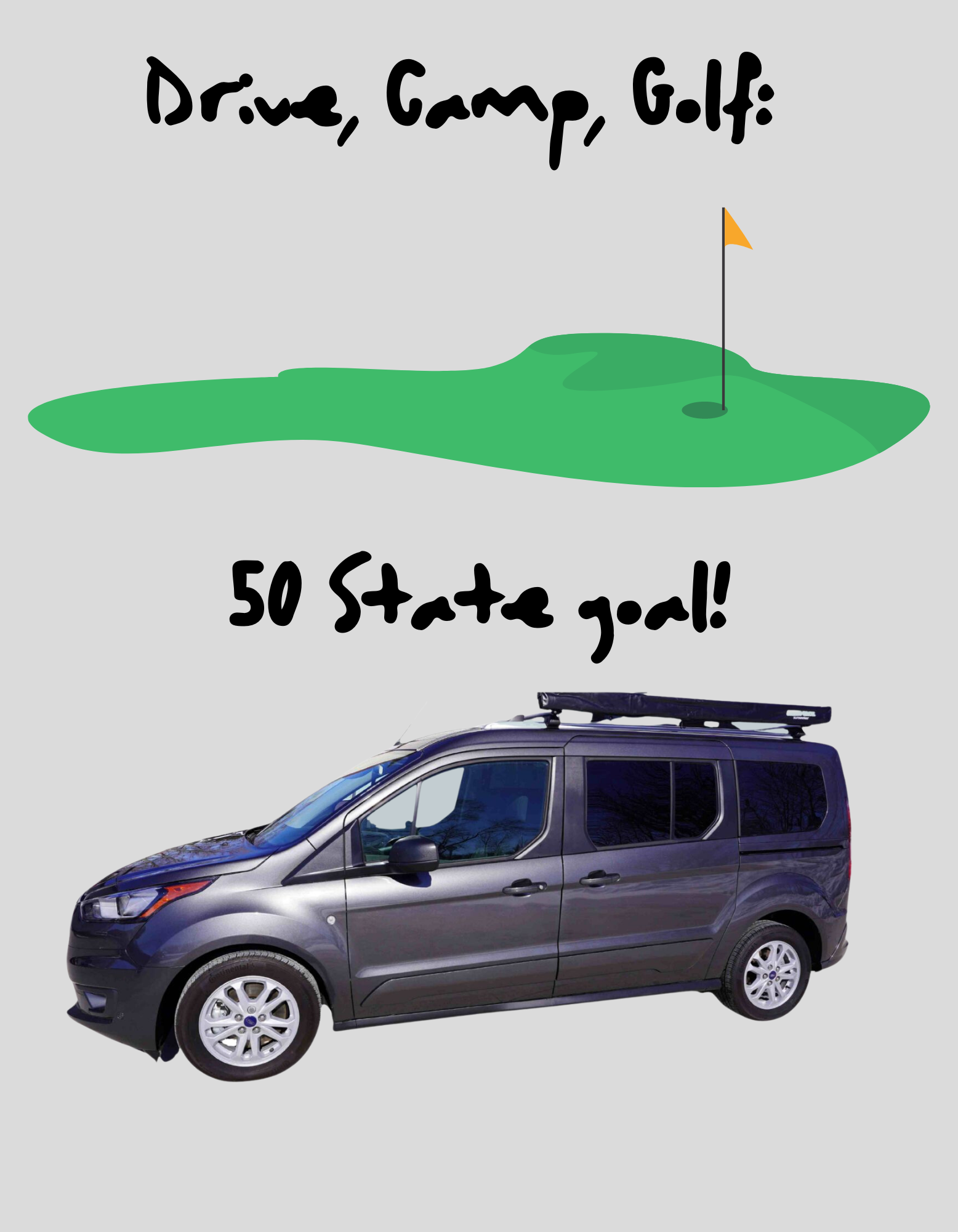 Alabama:
Luxury RV Resort in Gulf Shores, near Craft Farms Golf Club.
Alaska:
Rivers Edge RV Park in Fairbanks, close to Chena Bend Golf Course.
Arizona:
Mesa Spirit RV Resort near Arizona Golf Resort.
Arkansas:
Catherine's Landing in Hot Springs, near Hot Springs Country Club.
California:
San Clemente State Beach near San Clemente Municipal Golf Course.
Colorado:
Garden of the Gods RV Resort in Colorado Springs, close to Patty Jewett Golf Course.
Connecticut:
Strawberry Park Resort near Fox Hopyard Golf Club.
Delaware:
Delaware Seashore State Park near The Salt Pond Golf Club.
Florida:
Big Cypress Golf & RV Resort in Clewiston, boasting its own golf course.
Georgia:
Lake Pines RV Park & Campground in Columbus, near Bull Creek Golf Course.
Hawaii:
Malaekahana Beach Campground near Kahuku Golf Course.
Idaho:
Boise/Meridian KOA near BanBury Golf Course.
Illinois:
O'Connell's Yogi Bear Jellystone Park in Amboy, near Shady Oaks Country Club.
Indiana:
Lake Rudolph Campground & RV Resort near Christmas Lake Golf Course.
Iowa:
Lakeside Casino RV Park in Osceola, near Osceola Country Club.
Kansas:
Deer Creek Valley RV Park in Topeka, near Lake Shawnee Golf Course.
Kentucky:
Diamond Caverns RV Resort & Golf in Park City, with its own golf course.
Louisiana:
Pontchartrain Landing in New Orleans, near Bayou Oaks at City Park.
Maine:
Moody Beach RV Campground near Cape Neddick Country Club.
Maryland:
Cherry Hill Park in College Park, near University of Maryland Golf Course.
Massachusetts:
Normandy Farms Campground in Foxboro, near Foxborough Country Club.
Michigan:
Petoskey RV Resort near Crooked Tree Golf Club.
Minnesota:
Minneapolis Southwest KOA near Chaska Town Course.
Mississippi:
Majestic Oaks RV Resort in Biloxi, near President Broadwater Golf Club.
Missouri:
Branson KOA near Thousand Hills Golf Resort.
Montana:
Yellowstone's Edge RV Park near Livingston Golf & Country Club.
Nebraska:
Eagle's Rest RV Park in Chadron, near Ridgeview Country Club.
Nevada:
Las Vegas KOA at Sam's Town near Stallion Mountain Golf Club.
New Hampshire:
Friendly Beaver Campground in New Boston, near Stonebridge Country Club.
New Jersey:
Long Beach RV Resort & Campground near Sea Oaks Golf Club.
New Mexico:
Hacienda RV & Rally Resort in Las Cruces, near Sonoma Ranch Golf Course.
New York:
Lake George RV Park near Top of the World Golf Resort.
North Carolina:
Asheville East KOA near Broadmoor Golf Links.
North Dakota:
Red Trail Campground in Medora, near Bully Pulpit Golf Course.
Ohio:
Evergreen Park RV Resort in Mount Eaton, near The Pines Golf Club.
Oklahoma:
Twin Fountains RV Park in Oklahoma City, near Lincoln Park Golf Course.
Oregon:
Grande Hot Springs RV Resort in La Grande, near La Grande Country Club.
Pennsylvania:
Hersheypark Camping Resort near Hershey Country Club.
Rhode Island:
Fishermen's Memorial State Park Campground near North Kingstown Municipal Golf Course.
South Carolina:
Hilton Head Harbor RV Resort & Marina near Harbour Town Golf Links.
South Dakota:
Elkhorn Ridge RV Resort & Cabins in Spearfish, near Elkhorn Ridge Golf Club.
Tennessee:
Nashville KOA near Gaylord Springs Golf Links.
Texas:
Mill Creek Ranch Resort in Canton, near Van Zandt Country Club.
Utah:
Zion River Resort near Sky Mountain Golf Course.
Vermont:
Lake Champagne Resort Vermont in Randolph Center, near Montague Golf Club.
Virginia:
Williamsburg KOA near Williamsburg National Golf Club.
Washington:
Columbia Sun RV Resort in Kennewick, near Columbia Park Golf Links.
West Virginia:
Harpers Ferry / Civil War Battlefields KOA near Locust Hill Golf Course.
Wisconsin:
High Cliff State Park near High Cliff Public Golf Course.
Wyoming:
Yellowstone Valley Inn & RV Park near Powell Golf Club.
These are all fantastic campgrounds near golf courses, perfect for your Mini-T Campervan journey. Safe travels!
Please note that availability and access to the mentioned golf courses can change and may require booking in advance or membership. Always check the current status and reviews of campgrounds and golf courses before visiting.
Happy Camping! ~ Play well!
DLM-Distribution / Campervans is a licensed manufacture and dealer located in Lake Crystal Minnesota serving clients around the country
Contact Dave: 651-285-7089 or Candy: 507-382-9446 today!