NEWS
June 11th, 2016
Tucked away in southeastern Minnesota, White Water State Park stands as a testament to the natural beauty and grandeur of the North Star State. Brimming with a verdant landscape, diverse wildlife, and a picturesque river valley, this serene haven offers visitors an incredible array of outdoor activities to explore, including camping, hiking, fishing, and bird watching. This article takes you on an immersive journey into the heart of the park from the comfort of a Mini-T Campervan.
The Camping Experience
There's something undeniably magical about settling into your Mini-T Campervan as the sun sets over White Water State Park. Nestled within the heart of the park's campground, this compact yet fully-equipped campervan provides an idyllic blend of comfort and adventure. With its sophisticated design, every inch of the Mini-T is meticulously utilized, allowing campers to enjoy a full kitchen, a convertible sleeping area, and an on-board restroom - all essential features for a comfortable camping experience.
White Water State Park offers a selection of campsites equipped with modern amenities such as electric hookups, which are perfect for campervan users. There are also picnic tables, fire rings, and restrooms with showers located throughout the park for your convenience. After setting up camp, spend your evening beside a roaring fire under the starry Minnesota sky. From cooking a hearty meal to sharing stories around the fire pit, the campground transforms into a community, enhancing the quintessential camping experience.
The Hiking Trails
When the sun rises on your first morning at White Water State Park, it's time to lace up your hiking boots and hit the trails. The park offers an array of trails that cater to all skill levels, from gentle walks to challenging climbs.
Meadow Trail - Beginning with an easy route, the Meadow Trail is an excellent choice for families or those looking for a relaxed hike. This 2.2-mile loop traverses through lush prairies and serene meadows, giving hikers a chance to spot various bird species and wildflowers.
Chimney Rock Trail - For those seeking a moderate hike, the Chimney Rock Trail offers a blend of physical challenge and remarkable scenic beauty. The 1.4-mile trail ascends to the Chimney Rock overlook, providing breathtaking views of the Whitewater river valley.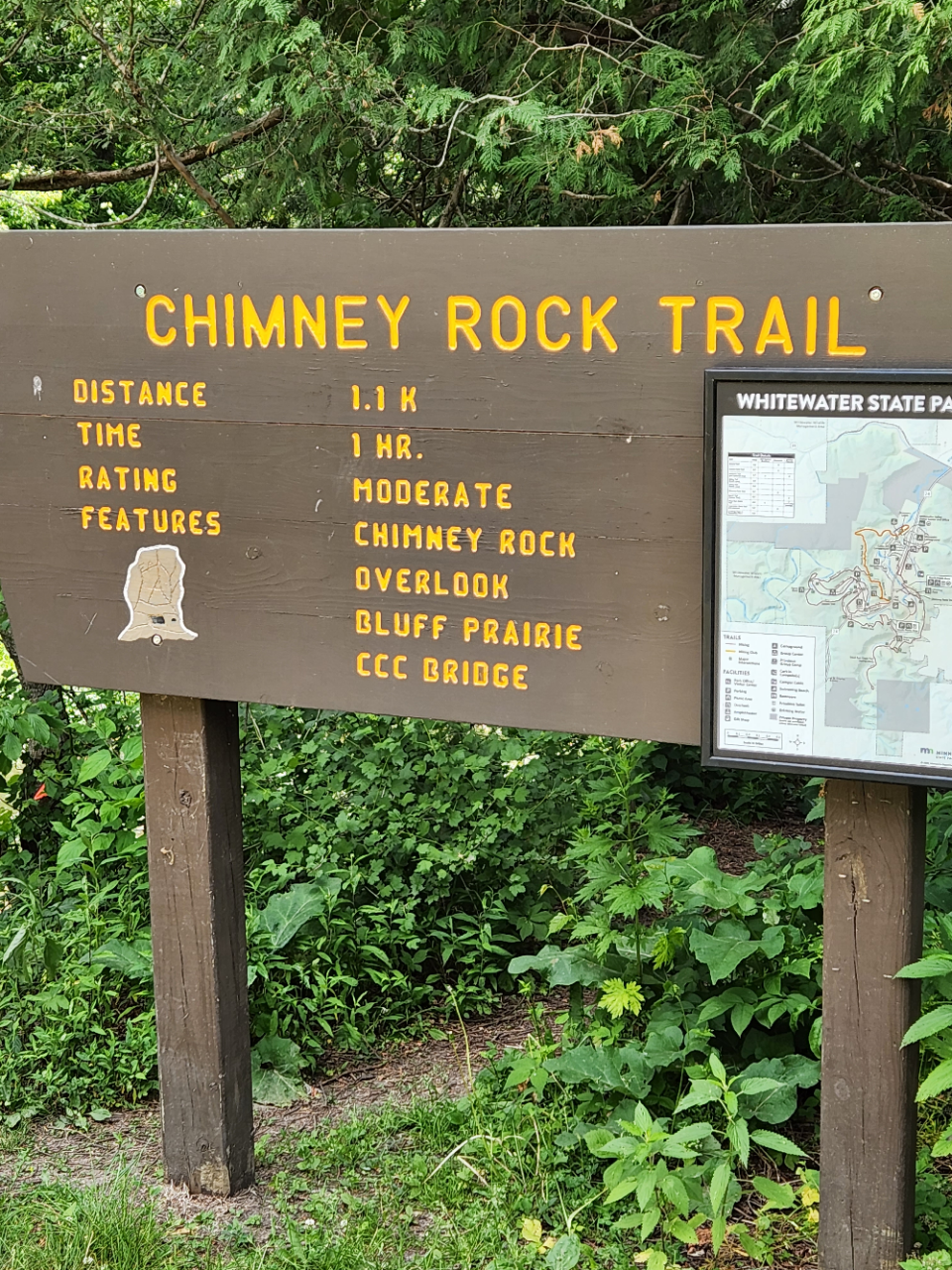 Dakota Trail - Considered the most challenging route, the Dakota Trail spans 2.7 miles and rewards hikers with a diverse landscape. This trail takes you through the hardwood forest, along the Whitewater River, and up a steep climb to an overlook that offers panoramic views of the park.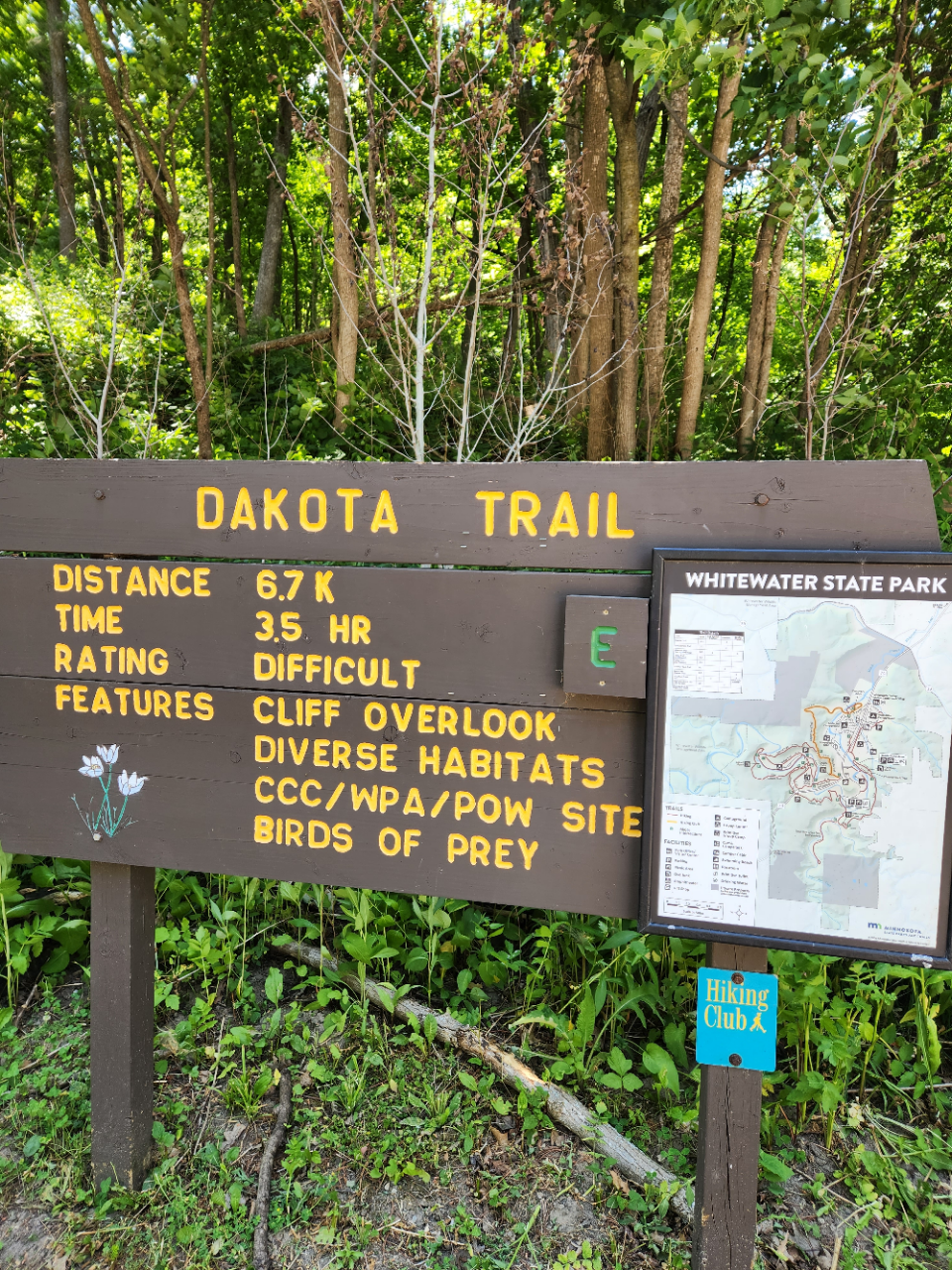 Trout Run Creek Trail - This 1.8-mile trail runs alongside the babbling Trout Run Creek, offering a calming ambiance for hikers. Suitable for all skill levels, the trail is also popular among anglers seeking brook trout in the creek's crystal-clear waters.
All trails are well marked, with maps available at the park's visitor center. It's essential to check the weather conditions before setting out, as certain trails can become slippery after rain. Always carry plenty of water, wear sturdy shoes, and carry a map or GPS.
Be aware that some trails close during the winter season due to snowfall, and others may be temporarily closed for maintenance or wildlife protection.
White Water State Park's trails are home to a diverse array of wildlife, including white-tailed deer, wild turkeys, and a variety of bird species. The park also boasts over 250 species of wildflowers, adding a splash of color to your hikes.
Venturing through the hiking trails, breathing in the crisp air, and soaking up the serenity of nature, you'll find that White Water State Park is a haven not only for its captivating beauty and enriching outdoor activities, but also due to a unique characteristic that sets it apart from other parks in Minnesota. If you're a Minnesotan, you're all too familiar with the seasonal mosquito swarms that can often put a damper on outdoor excursions. Yet, remarkably, the White Water State Park stands as a nearly mosquito-free sanctuary.
This delightful exception is attributed to the park's Karst topography - a landscape created by soluble rocks such as limestone, dolomite, and gypsum. This results in an extensive network of underground drainage systems with limited standing water, which in turn, provides a less than ideal breeding ground for mosquitoes.
So, as you settle into your Mini-T Campervan for the night, you can rest easy knowing your evening won't be interrupted by these pesky intruders. Enjoy the melodious symphony of crickets and the soft whispers of the wind rustling through the trees, while the stars unveil their celestial show overhead.
Visiting White Water State Park presents you with an unparalleled connection to nature, with the comfort of your Mini-T Campervan and the added benefit of a near mosquito-free environment. It's truly an experience that paints a vibrant picture of Minnesota's great outdoors - one that will stay etched in your memory, urging you to return long after your journey has ended. The allure of this state park isn't just in its trails or its camping experiences, but in its ability to provide peace, adventure, and a unique communion with nature, free from the common irritations. Here, at White Water State Park, Minnesota truly shows off its charm in full grandeur.
Happy Camping!
DLM-Distribution / Campervans is a licensed manufacture and dealer located in Lake Crystal Minnesota serving clients around the country
Contact Dave: 651-285-7089 or Candy: 507-382-9446 today!