NEWS
July 23rd, 2019
In a world that thirsts for adventure while yearning for convenience, the Garageable Mini-T Campervan by DLM Distribution has emerged as a ground-breaking answer. Seamlessly transitioning from a daily commuter vehicle to a fully-loaded campervan, this pioneering model embodies the quintessence of wanderlust compacted into a package small enough to fit in a standard garage.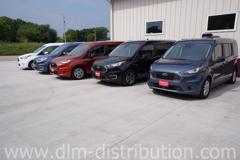 Situated in Minnesota, USA, DLM Distribution has leveraged its engineering expertise to produce the highly acclaimed Mini-T campervan. A flagship model in their lineup, the Mini-T provides users an unrivaled combination of mobility, convenience, and comfort.
Based on the trusted Ford Transit Connect platform, the Garageable Mini-T distinguishes itself from competitors through its ability to conveniently fit in standard garages and parking spaces. This innovative design offers a viable campervan solution for urban dwellers or those grappling with limited parking spaces.
While its compact dimensions are certainly an advantage, the Mini-T doesn't compromise on amenities. This versatile vehicle is designed for a multitude of activities: from camping and touring to everyday commuting. Inside, you'll discover a kitchenette, complete with a sink, refrigerator, and microwave. The interior has been meticulously planned to incorporate a comfortable, convertible bed for two, a top-notch TV/DVD entertainment system, and a portable toilet. Moreover, a solar panel mounted on the roof ensures a reliable power source for your off-grid excursions.
The Garageable Mini-T also shines in terms of fuel efficiency, challenging many compact cars in terms of miles per gallon. This economical performance redefines travel expectations, making long-distance road trips and regular weekend escapes much more feasible.
Safety remains paramount with the Garageable Mini-T. Equipped with advanced safety features like front and side airbags, a rear-view camera for effortless parking, and anti-lock brakes, this campervan ensures peace of mind on every journey. Its Ford roots further enhance its reliability, benefiting from the brand's renowned durability and extensive service network.
While the Mini-T Campervan has garnered much attention, DLM Distribution's offerings extend beyond this model. The company also manufactures larger campervans built on the full-sized Ford Transit Chassis, available in high, medium, and low roof models.
In essence, the Garageable Mini-T Campervan by DLM Distribution is more than just a travel solution. It's a testament to innovation, redefining the capabilities of a campervan and providing all the necessary amenities within a compact, garage-friendly package.
Happy Camping!
DLM-Distribution / Campervans is a licensed manufacture and dealer located in Lake Crystal Minnesota serving clients around the country
Contact Dave: 651-285-7089 or Candy: 507-382-9446 today!