NEWS
June 3rd, 2017
There are countless ways to travel and explore the United States' diverse landscapes, from hiking the Grand Canyon to road-tripping on the historic Route 66. One unique and underrated adventure is traversing Lake Michigan aboard the Badger Ferry, while the comfort and convenience of your compact Mini-T Campervan enhance the overall experience. This voyage is what we like to refer to as a "poor boy's cruise", but it's every bit as fun and thrilling as any luxury cruise out there!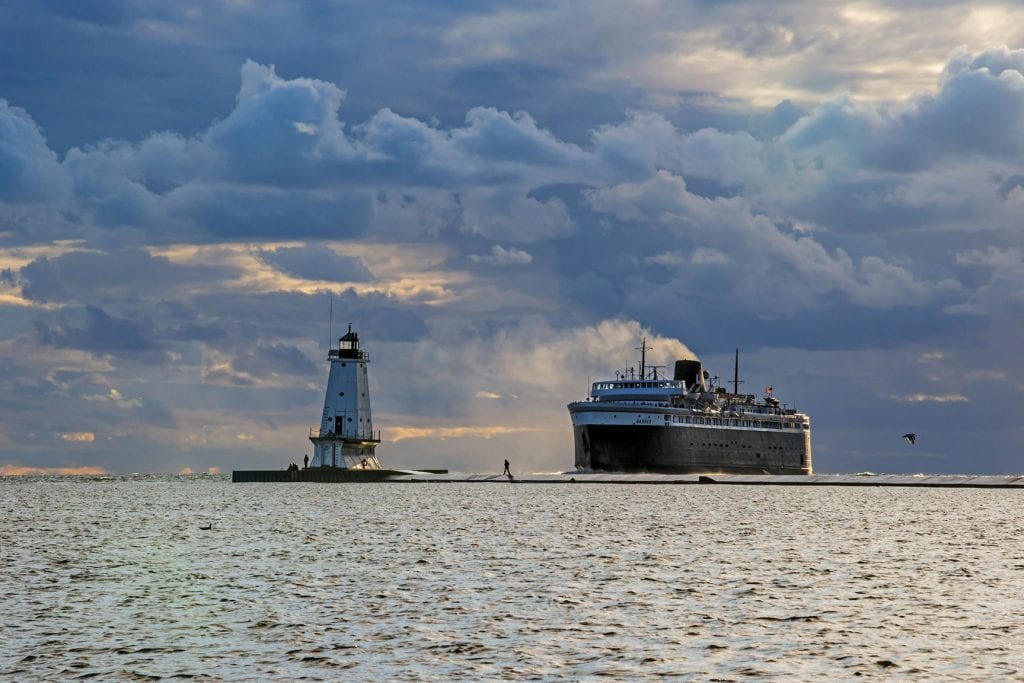 The S.S. Badger Ferry has a rich history and plays an integral role in connecting two key regions of the American Midwest. Since its launch in 1953, the ferry has been tirelessly carrying passengers, vehicles, and commercial cargo between Ludington, Michigan, and Manitowoc, Wisconsin. This iconic journey spans approximately 60 miles across the vast waters of Lake Michigan, taking around 4 hours of sailing time. Built by the Christy Corporation of Sturgeon Bay, Wisconsin, the Badger is the last coal-fired passenger steamship in operation in the United States, recognized as a National Historic Landmark.
The Badger Ferry is well-equipped with modern amenities, including eateries, a gift shop, and a museum showcasing its history. The staff are known for their warm hospitality, ensuring every traveler feels welcomed. On the ferry, travelers can enjoy spectacular views of Lake Michigan, often catching sight of wildlife and stunning sunsets.
But what truly enhances this voyage is getting to and from your ports in a Mini-T Campervan. This modern, compact campervan, designed with an emphasis on space utilization and comfort, has been a favorite among explorers who seek freedom and flexibility in their journeys. Its size makes it easy to get on and off ferries, whether the Badger or any other. Despite its modest size, the Mini-T Campervan boasts an impressive array of amenities such as a comfortable bed, kitchenette, solar panel, and TV/DVD for entertainment.
The compactness of the Mini-T Campervan not only makes ferry boarding easy but also is a cost-effective way to travel. The Badger Ferry charges based on vehicle length, so the compact campervan significantly reduces the cost compared to larger recreational vehicles or trailers. This financial aspect is what makes the adventure a "poor boy's cruise", allowing travelers to enjoy a unique experience without breaking the bank.
Traveling on the Badger Ferry with the Mini-T Campervan brings forth an adventure that combines the nostalgia of sea travel with the freedom of road tripping. It offers travelers a break from the monotony of highways, instead introducing them to the vast, beautiful expanse of Lake Michigan and its surrounding landscapes.
Aboard the Badger, travelers can step out on the decks of the ship a get a breath of fresh lake air, make new friends, and enjoy a meal, all while their campervan safely stowed for the voyage. Upon disembarkation, they can immediately resume their journey, with the convenience of their mobile accommodation at their disposal.
The voyage on the Badger Ferry, enhanced by the convenience and cost-effectiveness of the Mini-T Campervan, is an adventure like no other. This unique journey presents an ideal blend of relaxation, exploration, and the joy of discovering unchartered territories, truly representing a "poor boy's cruise" that's as fun and engaging as any luxury journey.
An additional perk of this journey, and a significant factor in choosing to traverse Lake Michigan instead of driving around, is the opportunity to bypass Chicago. If you're traveling east or west across the Midwest and wish to avoid the tolls, traffic, or any other challenges that Chicago might present, opting for the ferry is an excellent choice. It offers a serene route, characterized by country roads with minimal congestion on both sides of the lake, and best of all, no tolls to worry about!
Happy Camping!
DLM-Distribution / Campervans is a licensed manufacture and dealer located in Lake Crystal Minnesota serving clients around the country
Contact Dave: 651-285-7089 or Candy: 507-382-9446 today!