NEWS
July 11th, 2020
AirVenture, hosted in Oshkosh, Wisconsin, is not just the largest annual gathering of aviation enthusiasts in the United States, but it's a mecca for those who love aircraft and camping alike. Every summer, thousands of participants drive and fly in from all corners of the globe, setting up camp in their Mini-T Campervan, RVs, or tents for a week of celebration and camaraderie.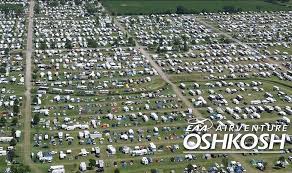 As a Mini-T Campervan owner, you have a unique opportunity to experience the best of both worlds. The compact yet comfortably equipped Mini-T offers the perfect combination of mobility, comfort, and off-grid convenience. You can move around easily, set up camp swiftly, and enjoy the comforts of home while being in the heart of aviation heaven.
The EAA AirVenture Oshkosh airshow is the primary attraction. Here you'll find a mesmerizing variety of aircraft. The sky buzzes with everything from experimental aircraft to military jets, vintage planes to ultralights. Over 10,000 aircraft arrive here annually, including some of the rarest and most innovative machines in the world of aviation.
The airshow is not just about static displays and flyovers. You can engage in a myriad of activities including workshops, forums, and even flights. Yes, you can hop into a vintage biplane or a modern helicopter for a bird's eye view of the event. The possibility of meeting renowned pilots, aircraft designers, and industry legends adds an extra thrill to the mix.
As day turns into night, the Camp Scholler campground comes alive. Named in honor of early EAA supporters Ray and Bernice Scholler, the campground spans over 70 acres and is the hub of community activities. Not only does it provide ample space for your Mini-T Campervan, but it's a place where you can bond with fellow enthusiasts under the starlit sky.
Camp Scholler, equipped with modern amenities, also offers a unique attraction: flights overhead. Even while relaxing at your campsite, you can watch a variety of aircraft performing flyovers, making your camping experience truly immersive.
In terms of entertainment, the campground has its unique attractions. From impromptu jam sessions to planned entertainment activities, there is always something fun going on. The communal campfires are great places for sharing stories, songs, and laughter.
As for tis year: the 2023 event, registration opens on June 30, 2023, at 7 a.m. with the AirVenture taking place from July 24 to July 30. Noteworthy activities to look forward to on Saturday, July 22, 2023, include twilight flight displays, music concerts, and night air shows.
The experience of being part of this vast, aviation-centered community, all while enjoying the comfort and convenience of your Mini-T Campervan, is unparalleled. There's nothing quite like the collective thrill of thousands of like-minded enthusiasts coming together to share their love for aviation and adventure. From the roar of engines overhead to the lively conversations around the campfire, Oshkosh's AirVenture is a one-of-a-kind experience every aviation enthusiast should witness.
Happy Camping!
DLM-Distribution / Campervans is a licensed manufacture and dealer located in Lake Crystal Minnesota serving clients around the country
Contact Dave: 651-285-7089 or Candy: 507-382-9446 today!