NEWS
June 7th, 2019
Home Owners Associations (HOAs) often present significant challenges for RV enthusiasts, due to the strict rules they impose on RV parking, which can limit or even prohibit the presence of these vehicles within their jurisdictions. However, for those RV lovers who live in an HOA community, there's a game-changing solution: the Mini-T Campervan. This compact motorhome stands out as it effortlessly sidesteps HOA restrictions with its unique size and registration status.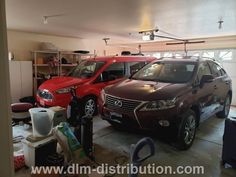 Bypassing Size and Parking Constraints
HOAs frequently introduce rules based on an RV's size and the space it occupies, as large RVs and campervans can disrupt neighborhood aesthetics and potentially block access to areas. Here is where the Mini-T Campervan comes into play. This micro camper is designed like a conventional van, which allows it to comfortably fit in a standard-sized garage.
HOAs are typically more accommodating toward vehicles that do not disturb the community's visual harmony or congest common spaces. As the Mini-T Campervan appears similar to a regular van and takes up minimal space, it's less likely to stir up issues with HOA regulations.
Clever Registration
The standout feature of the Mini-T Campervan that sets it apart from traditional RVs is its registration status. This micro camper is registered as a van, therefore avoiding many RV-specific HOA restrictions. To the casual observer, the Mini-T Campervan is just another van parked in the driveway, enabling owners to avoid unnecessary attention or potential penalties.
Additional Advantages
Beyond its unique ability to navigate HOA restrictions, the Mini-T Campervan provides several additional benefits that make it an optimal choice for both occasional and avid travelers.
Versatility: The Mini-T Campervan is designed to function as an everyday vehicle, while also accommodating sleeping arrangements for two, making it perfect for short or long trips.
Economy: The Mini-T Campervan boasts impressive gas mileage, low insurance costs, and a remarkably low cost per mile, making it a cost-effective choice.
Features: With standard features like solar power, shore power, a camping starter kit, and off-grid capabilities, the Mini-T Campervan guarantees a comfortable and self-reliant camping experience.
Global Compatibility: For those looking to take their adventures beyond local borders, the Mini-T Campervan fits in a 20' container, ensuring safe and easy shipping overseas.
In conclusion, the Mini-T Campervan presents a brilliant solution for RV enthusiasts living in HOA or condo communities, allowing them to circumvent often restrictive RV rules. By artfully blending the practicality of a van with the adventurous features of an RV, the Mini-T Campervan truly shines as the best compact motorhome choice in the current market. In an era of ever-increasing regulations and restrictions, the Mini-T Campervan proves its worth by going where others cannot. It's a symbol of freedom and adventure, without compromise, regardless of where one calls home.
Happy Camping!
DLM-Distribution / Campervans is a licensed manufacture and dealer located in Lake Crystal Minnesota serving clients around the country
Contact Dave: 651-285-7089 or Candy: 507-382-9446 today!