NEWS
September 4th, 2023
If you've ever traveled with a dog, you know they have their preferences. Some dogs adore car rides, sticking their heads out the window and letting their ears flap in the wind. Others, well, they might not be so keen on the whole idea. But fear not, because there's a solution that's got tails wagging all over the place - the Mini-T Campervan!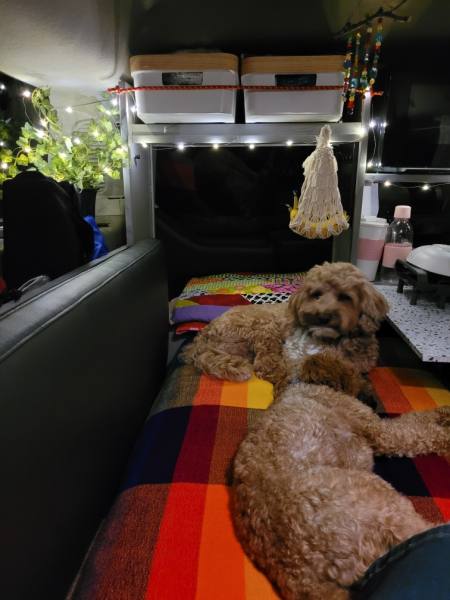 It seems that these adorable little canines have developed a taste for the finer things in life, and what better way to indulge them than with their very own luxurious campervan? Mini-T has become the go-to choice for discerning dogs who want to travel in style. Forget those cramped crates or uncomfortable back seats; these dogs have their own little paradise on wheels.
One of the key features that has won over even the most skeptical furry travelers is the abundance of windows. That's right, these campervans are practically a dog's dream come true. Small dogs sitting on the bed can easily peek out and take in the sights as they cruise along. It's like having a front-row seat to the world, but with all the comfort and safety of a cozy camper.
In fact, rumors have been circulating that some dogs who were notorious for getting car sick or anxious during travel have found their happy place in a Mini-T. It's as if the perfect combination of ventilation in the rear and the panoramic view has transformed their travel experience. These lucky dogs are no longer shying away from the open road; they're begging their humans for more adventure!
It's become something of a running joke among Mini-T enthusiasts that these campervans might just have sold as many to dogs as they have to people. After all, who can resist those wagging tails and puppy-dog eyes when they're begging for a ride in their very own stylish vehicle? The only downside is that, unfortunately, the dogs haven't figured out how to take the wheel yet, so the humans still have to do the driving.
But let's be honest, the dogs are the ones truly living the high life here. With their Mini-T Campervans, they get to experience travel in a way that rivals even the most luxurious of human accommodations. They're rolling down the road, soaking up the scenery, and turning heads everywhere they go. It's safe to say these pups are living their best lives.
So, the next time you're considering a road trip with your four-legged friend, take a cue from these trendsetting pups and consider a Mini-T Campervan. It's a win-win situation: you get to hit the road with your furry companion, and they get to travel in the lap of luxury. Who knows, you might just find yourself taking a back seat while your pampered pup enjoys the view from their very own campervan. After all, it's their world; we're just driving in it.
Happy Camping!
DLM-Distribution / Campervans is a licensed manufacture and dealer located in Lake Crystal Minnesota serving clients around the country
Contact Dave: 651-285-7089 or Candy: 507-382-9446 today!