NEWS
August 20th, 2009
Traveling the USA in a campervan offers the promise of freedom, adventure, and unexplored landscapes. But what if you combined that journey with a dive into the ancient past? As you traverse the vast American terrains in your mobile abode, consider making stops to witness the mesmerizing petroglyphs – the ancient graffiti – etched into rock faces, bearing tales of times long gone.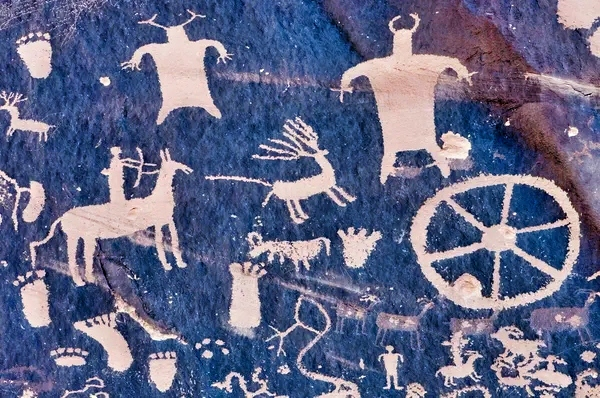 1) Newspaper Rock, Utah: After a night under the starry skies of the Indian Creek State Park, wake up to the tales inscribed on Newspaper Rock. As you sip your morning coffee, ponder over the myriad of designs carved over thousands of years.
2) Three Rivers Petroglyph Site, New Mexico: Find a cozy camp spot near Alamogordo and wander amidst an astonishing collection of over 21,000 petroglyphs by day, reflecting on the stories of the Jornada Mogollon people as you settle down by your campfire by night.
3) Petroglyph National Monument, New Mexico: Park your campervan on the outskirts of Albuquerque and step into a realm preserving 24,000 images. As the sun sets, marvel at the play of light and shadow over these ancient carvings.
4) Valley of Fire State Park, Nevada: Amidst the brilliant hues of red sandstone formations, set up your picnic spot. Spend the day exploring Atlatl Rock and the Mouse's Tank trail, uncovering stories set in stone.
5) Nine Mile Canyon, Utah: Dubbed the "world's longest art gallery", this canyon offers both captivating landscapes for your campervan backdrop and a rich tapestry of petroglyphs and pictographs.
6) Horsethief Lake, Washington: Within Columbia Hills State Park, beside Horsethief Lake, set up camp. As dawn breaks, embark on a sacred journey exploring Native American petroglyphs and pictographs.
7) Saguaro National Park, Arizona: As you park amidst the towering cacti, the nearby Signal Hill Trail beckons. A short trek reveals boulders adorned with petroglyphs from the Hohokam era.
8) Pictograph Cave State Park, Montana: Here, the experience is twofold: discover ancient painted images (pictographs) alongside petroglyphs. Camp under the Montana sky, with millennia-old stories as your companions.
9) Death Valley National Park, California: Brave the arid expanse of Death Valley and find oases of history hidden in places like Titus Canyon. As night envelops the valley, let the ancient etchings inspire stargazing tales.
10) Winnemucca Lake, Nevada: At this unique location, you're camping by what might be North America's oldest petroglyph, a testament to over 10,000 years of history.
Embarking on this campervan journey is not just about reveling in the beauty of nature but also about connecting with ancient civilizations. Remember, as with all natural and historical sites, to leave no trace and treat each location with the utmost respect.
Safe travels and happy discoveries!
DLM-Distribution / Campervans is a licensed manufacture and dealer located in Lake Crystal Minnesota serving clients around the country
Contact Dave: 651-285-7089 or Candy: 507-382-9446 today!