NEWS
July 29th, 2023
Embarking on a camping adventure in a Mini-T Campervan is a delightful way to connect with nature and experience the freedom of the open road. Whether you are a seasoned camper or new to the world of outdoor exploration, having a well-organized campervan is crucial for a smooth and enjoyable trip.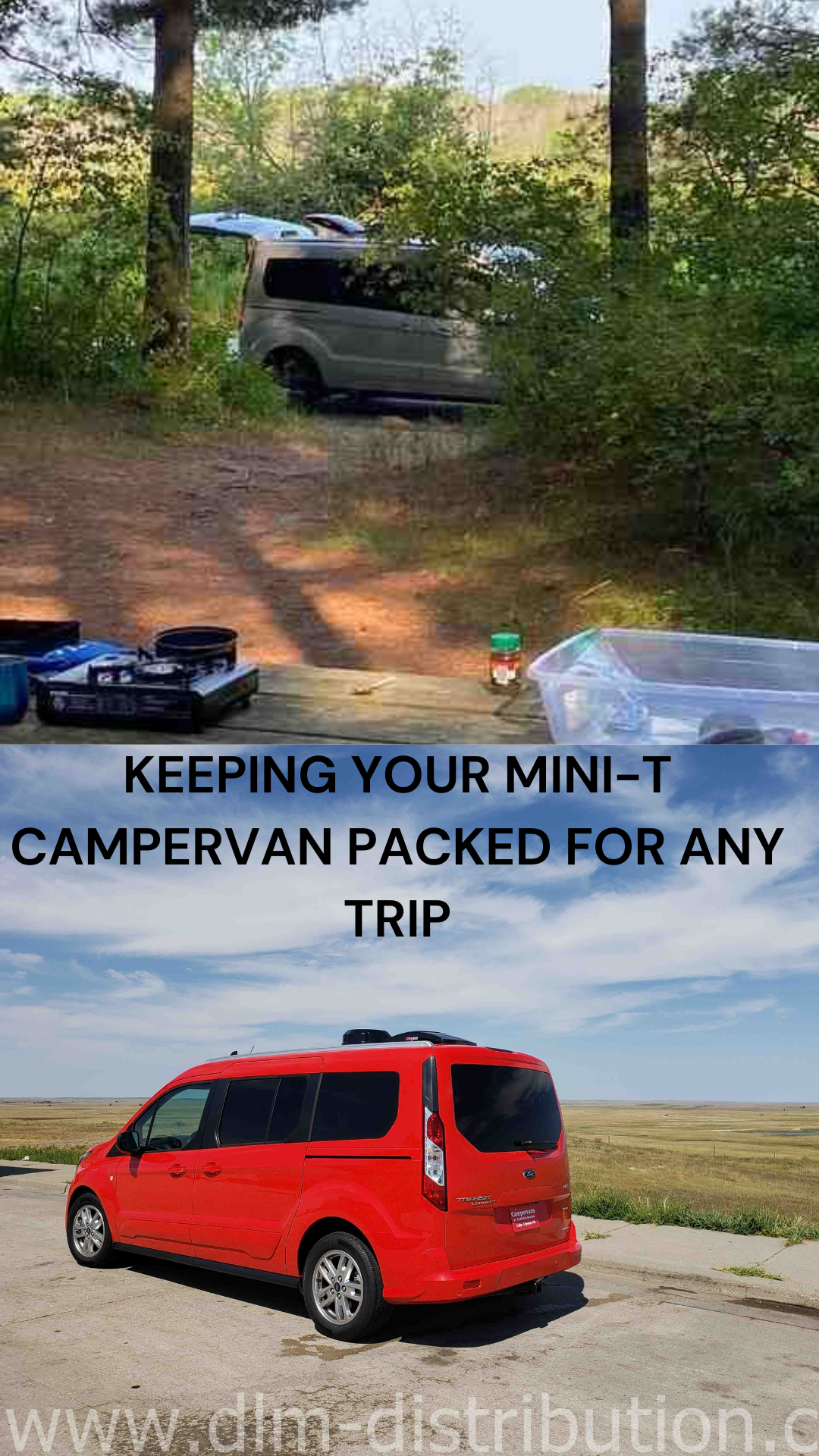 Here are our suggestions:
The Culinary Kit
One of the joys of camping is preparing delicious meals in the great outdoors. In a single tote that can be stored under your bed, assemble the following essentials for your campervan:
- Plate(s)
- Fork, spoon, and knife(s)
- Cup(s)
- Frying pan
- Thin cutting board
- Tongs/spatula
- Dish soap, sponge, and dish cloth
- Camp stove and fuel
- Aluminum foil
- Ziploc bags
- Paper towels
- Lighter and fire starter
With this kit, you'll be well-equipped to whip up meals at a picnic table or beside a crackling bonfire, adding a touch of gourmet to your camping experience.
Toiletries for On-the-Go
Maintaining personal hygiene while camping is important for your comfort and well-being. Create a convenient toiletry or ditty bag containing the following items, making it easy to carry to shower or bathroom facilities:
-Quick-dry packable towel
-Toothbrush and toothpaste
-Soap, lotion, etc.
-Travel-sized shampoo and conditioner
Quarters (for coin-operated showers)
-Hairbrush or comb
-Razor
Having these items readily accessible ensures you are always fresh and ready to make the most of your outdoor escapades.
Clothing and Footwear
While it's tempting to pack an array of outfits for every possible scenario, keeping your clothing selection minimal is key to a stress-free camping trip. Pack a few versatile items of your favorite clothes, along with appropriate footwear for different activities and weather conditions. This approach simplifies decision-making and saves valuable space in your Mini-T Campervan. We prefer backpacks for our clothing, as they can be easily moved around in the campervan.
Additional Necessities
In a smaller tote, make room for items that ensure your comfort and well-being:
-Sunscreen: Protect your skin from the sun's harmful rays during outdoor activities.
-Bug spray: Ward off pesky insects and enjoy bug-free evenings.
-Tide pods: For when your favorite clothes need a quick wash, especially during longer trips.
A few more items that should find a permanent place in your campervan include:
-Sheets, blankets (consider an electric one), and pillows: Bedding can be stored on your couch/bed or behind it.
-Folding camping chairs: Comfortable seating for lounging around the campsite.
-Foldable toilet (stored under the bed): A portable solution for bathroom needs in remote areas.
-Tall kitchen bags: Useful for managing waste and keeping your campsite tidy.
-Toilet paper.
Camping and traveling in a Mini-T Campervan open up opportunities for spontaneous exploration. Keeping your campervan always packed means you are ready to embark on impromptu adventures or overnight stays at a moment's notice. Whether it's a charming small town you explore while using the laundromat, or a local eatery, embracing the journey is what camping is all about.
Pack your Mini-T Campervan and always be ready for your next adventure.
~Happy camping!
DLM-Distribution / Campervans is a licensed manufacture and dealer located in Lake Crystal Minnesota serving clients around the country
Contact Dave: 651-285-7089 or Candy: 507-382-9446 today!