NEWS
April 5th, 2014
The appeal of the open road has never been stronger, as more people are drawn to the idea of mobile living or having a vacation-on-wheels. However, not everyone is keen on maneuvering a full-sized RV through narrow roads or trying to find parking that can accommodate a large vehicle. For those in search of something more manageable, campervans under 20 feet long offer the ideal balance of comfort and convenience. Among these smaller options, the Mini-T Campervan has earned a special mention. At just 16 feet long and under 7 feet high, it easily fits into a standard household garage while offering all the amenities needed for a great adventure.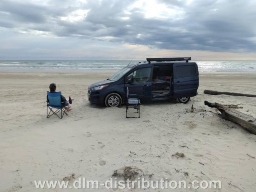 What Makes Campervans Under 20 Feet Attractive?
-Maneuverability
Shorter campervans are much easier to handle, especially on narrow or winding roads. These are perfect for those road trips to mountainous areas or coastal drives where larger RVs struggle.
-Parking
Finding parking for a large RV can be a cumbersome task. With a shorter campervan, you can easily park in regular-sized parking spaces.
-Fuel Efficiency
Smaller size usually means better fuel economy, saving you money that you can better spend on experiences during your travels.
-Lower Costs
Smaller campervans are generally cheaper to buy and maintain, making them ideal for those on a budget.
Spotlight: The Mini-T Campervan
-Compact Size
One of the standout features of the Mini-T Campervan is its size. At just 16 feet in length and under 7 feet in height, this vehicle can easily fit into a standard household garage. This feature alone makes it incredibly practical for those who don't have the luxury of extra parking space or who prefer to keep their investment safe and secure when not in use.
-Amenities
Despite its compact size, the Mini-T Campervan is packed with features, making it ideal for weekend getaways or extended trips where you want the comforts of home on the road.
-Affordability
When compared to larger RVs, the Mini-T Campervan is usually more budget-friendly. While prices can vary depending on the model year and added features, you're likely to save money upfront and in ongoing maintenance costs.
-Versatility
Given its size, the Mini-T Campervan is versatile enough to function as a daily driver when not being used for travel. This multi-use capability provides an extra incentive for those looking to make the most out of their purchase.
Conclusion:
Campervans under 20 feet long offer a unique blend of convenience and comfort for travelers seeking a more manageable size without sacrificing essential amenities. The Mini-T Campervan, with its compact 16-foot length and under 7-foot height, stands out as a particularly excellent option. Its ability to fit into a standard household garage, combined with its array of features, makes it an attractive choice for both seasoned road trippers and newcomers alike.
Happy Camping!
DLM-Distribution / Campervans is a licensed manufacture and dealer located in Lake Crystal Minnesota serving clients around the country
Contact Dave: 651-285-7089 or Candy: 507-382-9446 today!