NEWS
November 14th, 2021
Traveling solo is so much fun! It doesn't matter how old you are or what you do in life, it can rejuvenate your soul and stir the adventurer in you. Some people love it so much that they adopt it as a lifestyle, traveling and camping from one place to another. It is exhilarating and lets you have many fine adventures while traveling the world. Sleeping under the stars, sitting by a bonfire, cooking a great meal, and enjoying every sunset and sunrise are just a few of the amazing experiences you can have on your camping adventure.
As you mature, you start to appreciate the comforts of traveling alone. One of the best things you can do for yourself, especially as a single woman, is to take a solo camping trip or travel. You may have found yourself at a place in your life, that you have more time and capacity to travel and pursue your passions, family, National Parks or just relax.
Let the most exciting phase of your life begin with an easy to maintain and operate campervan.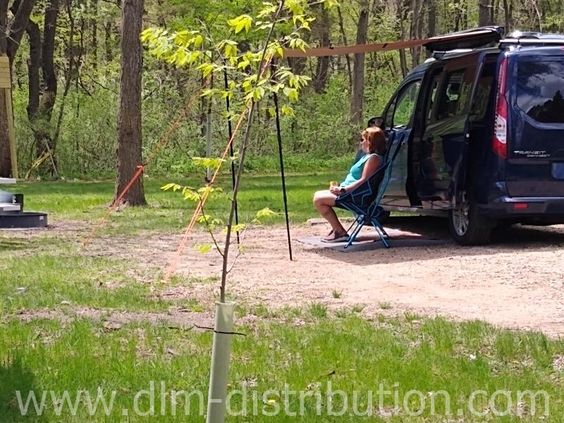 Living Your Best Life
If women were asked what the one thing they wish they had the freedom to do is, most of them would say travel freely without a care in the world. If it was your job, your studies, your families, your commitments that had been stopping you from making that choice, now would be a good time to fuel up and start your travels safely.
More and more women are traveling alone, from the mountains to the beaches to different continents. They are breaking the norms and normalizing women traveling and camping alone.
Women Love Small Campervans
One thing that has really helped women to travel alone is the popularity of campervans. They provide the ease, comfort, and most importantly, the safety that lets women travel stress-free and go camping on their own.
Unlike many blogs, articles, and stereotypes about campervan travel, we find a high number of camper van owners are single women that enjoy solo traveling. Solo traveling enables you to visit museums, landmarks, parks, campgrounds, beaches and more importantly, family. The amenities of your camper van allow you to safely be on your own and see the world.
Women Love Small Camper Vans. Those who have invested in small campervans and ventured out on their own have had delightful experiences. They cannot rave enough about how it afforded them some of the best experiences of their lives. They also enjoy the feeling of safety and security as they travel in an easy to operate DLM Mini-T Campervan.
Whether they were on the road, stopped by the side to take a little rest, or chilling at the camp site, they knew their belongings and themselves were protected and safe inside the van. That feeling alone, for anyone, is priceless.
With a mini campervan, the size of an average SUV, it is entirely safe and easy to drive, use and maintain. The advantage of the small size of the Mini-T is the ease of parking and camping where larger RV's will not be able to go.
DLM Distribution and Campervans
When you purchase from DLM Distribution, you will enjoy our extensive orientation whether face to face or over the phone if you choose nationwide delivery. If any questions arise after delivery or while camping, you can always count on DLM Distribution to help you out. We do not merely sell you the campervan and leave you to it; we are there for you throughout your journeys, cheering you on and helping you out.
DLM Distribution has variety of campervans for you to choose from, such as the Mini-T campervans and Transit campervans, and we also offer nationwide sales. We also provide shipping and logistics assistance but what we pride ourselves most on is our world-class customer service. Rest assured, we believe in building relationships, not merely making sales.
DLM Distribution is a great option for women. Buy a small campervan from a woman-owned business and begin your adventures! Happy camping!
DLM-Distribution / Campervans is a licensed manufacture and dealer located in Lake Crystal Minnesota serving clients around the country
Contact Dave: 651-285-7089 or Candy: 507-382-9446 today!