NEWS
July 9th, 2023
If you find yourself in Illinois with your Mini-T Campervan and have a deep yearning to connect with nature, there is one place that should be at the top of your list: Starved Rock State Park. Famous for its dramatic canyons, forested trails, and waterfalls, this natural haven offers a quintessential Midwest outdoor experience. In this article, we will explore what makes Starved Rock State Park the ideal destination for your camping trip, the amenities it offers, its rich history, and the best time to visit.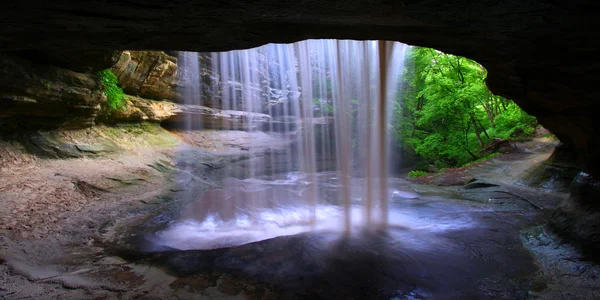 Why Starved Rock State Park?
A Natural Oasis
Starved Rock is a nature lover's paradise. Located along the south bank of the Illinois River, the park is famous for its steep sandstone canyons formed by glacial meltwater. Some 18 canyons offer impressive seasonal waterfalls that are a sight to behold, especially after heavy rainfall or during the spring melt. The park's 2,630 acres offer numerous opportunities for hiking, with 13 miles of well-maintained trails that meander through lush forests and offer panoramic river views.
Proximity to Water
Your desire to be near water will be satiated here. Whether you want to fish, kayak, or simply enjoy the view, the Illinois River provides a tranquil backdrop to your adventure.
Amenities and Facilities
Starved Rock State Park offers well-equipped camping facilities compatible with your Mini-T Campervan. The campground features electric hook-ups, shower facilities, flush toilets, and a camp store. For those interested in activities other than hiking, the park offers fishing areas, boating facilities, and picnic areas. Pets are also welcome, making it a great choice if you're traveling with your furry friend.
Historical Significance
Starved Rock takes its name from a Native American legend. The tale goes that a group of Illiniwek Indians took refuge atop a 125-foot sandstone butte and were besieged by members of the Ottawa and Potawatomi tribes. According to legend, they starved rather than surrender, hence the name "Starved Rock." While the tale might be more folklore than fact, the area's history as a meeting place for Native Americans and later French explorers adds a layer of depth to your outdoor experience.
Best Time to Visit
While the park offers year-round accessibility, each season brings its own charm. Spring is ideal for witnessing the waterfalls at their most vigorous. Summer provides lush greenery and a wealth of activities such as fishing and boating. Autumn offers a tapestry of fall colors, while winter transforms the park into a snowy wonderland, ideal for cross-country skiing or eagle watching.
If you prefer fewer crowds and a more tranquil experience, consider visiting during the weekdays in the late spring or early fall.
Time to plan your trip?
With its stunning natural features, excellent amenities, and historical richness, Starved Rock State Park is a gem in the Illinois State Park system and offers something for every type of nature enthusiast. Whether you are a hiker, a history buff, or someone simply looking to disconnect and soak up nature's wonders, packing up your Mini-T Campervan and heading to Starved Rock will undoubtedly make for an unforgettable adventure.
So, load up your camper, and set your GPS for Starved Rock State Park, Illinois. A world of natural wonder awaits!
Happy Camping!
DLM-Distribution / Campervans is a licensed manufacture and dealer located in Lake Crystal Minnesota serving clients around the country
Contact Dave: 651-285-7089 or Candy: 507-382-9446 today!