NEWS
February 9th, 2021
A motorhome is the best way to go camping while having the comforts of home.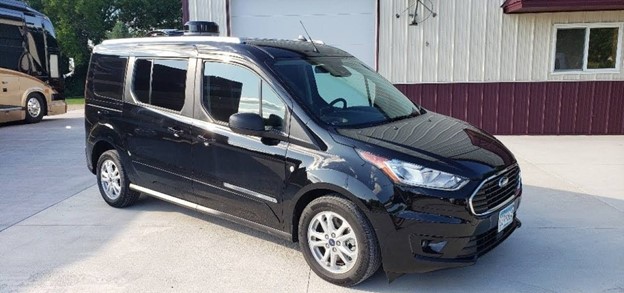 However, owning a traditional RV/motorhome is not as simple as owning a car or a truck. That is why many camping enthusiasts stick to simple tent camping and let go of the idea of the luxury of a RV. This is due to what comes along with ownership of these larger units.
The Mini-T motorhome has changed the camping game. This Class B campervan offers the comforts and many great features but without the complexity of owning and maintaining a class A or C RV/Motorhome built on a commercial truck or bus chassis.
Go Anywhere, Park Anywhere
Finding a parking space for a class A or C motorhome is at times, no means an easy feat. More planning and preparation needs to happen before taking those big motorhomes out for a journey. You need to ensure that the campsite you are heading to can accommodate the size and height. State and National Parks are known for not keeping the tree limbs trimmed to fit the largest motorhomes and RV's and many sites are small and not level.
In contrast, the Mini-T class B RV is built on a Transit Connect Mini Van platform, and parking it is as simple as parking any normal size car or truck. If you like to go camping without planning much; or at all, the Mini-T campervan is the best option for those last-minute trips!
Equally Good for Boondocking as well as Campground Campsites
The simplicity of the Mini-T Sleepervan also makes it a versatile camping option. You get a foldable wag bag style toilet that stores under the bed, a portable cookstove, sink and microwave which works off-grid for the required convenience without needing to deal with intricate plumbing and LP gas systems. Your electrical system is robust enough to run 120v household appliances off-grid as well. This ability to camp without hookups lets you take your campervan for off-the-grid trips without compromising on necessities.
On the other hand, a Mini-T van is equally good at campground campsites. With a shore power hook up you can make the most of campsite electrical hookups.
Low-Maintenance and Economical
When you own an RV, you don't take care of it only during camping trips. You must maintain it all year round, and it requires a lot! Did you know tires should be replaced every 7 years even they look new and have zero miles on them? Same thing for batteries! Other complex systems like generators and gas furnaces must be used monthly, otherwise failures and costs will go up even more. This is another reason many people drop the idea of getting a motorhome (a big motorhome, like a boat…maintenance cost gets extremely high with lack of use). However, the Mini-T sleeper van doesn't overburden owners with ongoing expenses in fact your maintenance costs will be no more than a typical passenger vehicle.
A big A class motorhome can easily cost you north of $10,000 annually regardless of how much you use it. However, the Mini-T Campervan is low maintenance and has an economical use.
First, you don't have to spend heavily on its regular maintenance schedules. Then, it offers the best fuel economy among all the motorhome classes. Its insurance cost is also lower than class A and C motorhomes. You also save the storage cost because it is a garageable campervan.
In short, owning a Mini-T campervan is not a costly affair in the long run. It may even end up your primary every day vehicle bringing costs down even further!
Easy to Use Features
A big motorhome has so many features that one needs to spend a lot of time with the vehicle to get the hang of them and be comfortable in the operations of all features. The Mini-T motorhome also boasts simplicity in that sense. All its cab features are just like any other car or van and the house-cabin features are intuitive and easy to use, making it a 'ready to go' RV. As soon as you take delivery of your Mini-T campervan you can head out on your 1st trip without feeling overburdened by the complexity of a big rig.
If the simplicity of a Mini-T has won you over, get in touch with DLM Distribution. You can purchase the Mini-T campervan of your choice, manufacturer direct from DLM Distribution.
DLM-Distribution / Campervans is a licensed manufacture and dealer located in Lake Crystal Minnesota serving clients around the country
Contact Dave: 651-285-7089 or Candy: 507-382-9446 today!