NEWS
May 9th, 2016
The Mini-T Campervan is a small Class B RV camper van that is designed to be compact and functional.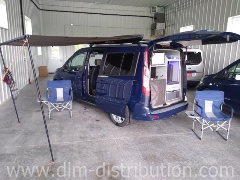 The Mini T Camper is built on a Ford Transit Connect chassis and features a self-contained living space that includes a bed, storage space, and basic cooking facilities such as a microwave oven and a portable gas camping stove. The Mini-T Campervan is just 16 feet in length and 78 inches (6.5 feet) high, making it easy to maneuver and park in tight spaces. Its small size also allows it to access more remote camping spots that larger RVs cannot reach.
The Mini-T Campervan is manufactured by DLM-Distribution, and it is designed to provide a comfortable and functional camping experience in a small package. Despite its compact size, it still offers many amenities that are typically found in larger RVs, such as a portable toilet, a roof fan, and a power inverter. The Mini-T Campervan is a great option for those who want to travel and camp in a smaller vehicle without sacrificing comfort and convenience.
Happy Camping!
DLM-Distribution / Campervans is a licensed manufacture and dealer located in Lake Crystal Minnesota serving clients around the country
Contact Dave: 651-285-7089 or Candy: 507-382-9446 today!