NEWS
April 25th, 2023
Exploring the National Park's in a campervan
A campervan can be a fantastic option for exploring national parks, providing flexibility, convenience, and cost-effectiveness. Not all national parks have campgrounds, but many of them do. The availability and type of campgrounds vary by park, as each park has its own unique features and regulations.
Some national parks offer primitive camping areas, where visitors can pitch a tent and camp in a designated area without any amenities or facilities. Other parks offer developed campgrounds that have amenities such as running water, flush toilets, and fire pits. Many parks also have RV and campervan campsites with electrical hookups and dump stations.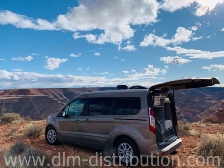 One of the main benefits of traveling in a campervan is flexibility. With a campervan, you have the freedom to change your route or stay longer in a particular area if you find it interesting. This is particularly useful when exploring national parks, which often have a wide variety of trails, scenic views, and wildlife to experience.
In addition to flexibility, a campervan provides convenience. You have everything you need with you, including a microwave, stove, bed, and bathroom, so you don't have to worry about finding accommodations or restaurants. This can save you money, and you can spend more time enjoying the outdoors.
Many national parks have designated campsites that are suitable for RVs and campervans, with amenities such as electrical hookups, dump stations, and larger camping spots. Still, some national parks have restrictions on the size of vehicles that can be accommodated in their campgrounds. Thus, the Mini-t Campervan at only 16-foot-long fit into all campsites.
Overall, a campervan can be an excellent way to explore national parks, providing the convenience of a mobile home with the opportunity to experience the great outdoors. With careful planning and research, you can find the perfect campsite and enjoy all that national parks have to offer.
Happy camping!
www.dlm-distribution.com
DLM-Distribution / Campervans is a licensed manufacture and dealer located in Lake Crystal Minnesota serving clients around the country
Contact Dave: 651-285-7089 or Candy: 507-382-9446 today!