NEWS
May 17th, 2019
If you plan to take your Mini-T Campervan on a camping trip in South Dakota, you'll find numerous excellent options, including national parks, state parks, and private campgrounds. Here are a few suggestions for places to camp in the state: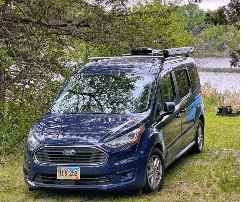 Badlands National Park: This park has two campgrounds, Cedar Pass and Sage Creek, that are easily accessible in your Mini-T Campervan. Both offer basic amenities, such as restrooms and water, and provide breathtaking views of the rugged landscape.
Custer State Park: With several campgrounds, including the Sylvan Lake, Stockade Lake, and Game Lodge campgrounds, Custer State Park is an ideal spot for camping. All of the campgrounds have basic amenities, and the park is perfect for hiking, wildlife viewing, and scenic drives.
Mount Rushmore National Memorial: There are a few campgrounds near the park, such as the Mount Rushmore KOA at Palmer Gulch and the Rafter J Bar Ranch Camping Resort, that offer amenities like showers, laundry facilities, and playgrounds.
Black Hills National Forest: The forest boasts numerous campgrounds, including the Horsethief Lake Campground and the Roubaix Lake Campground, that provide basic amenities and access to hiking trails and scenic drives.
Private Campgrounds: There are also many private campgrounds throughout South Dakota that can accommodate Mini-T Campervans. The Rushmore Shadows Resort, Spearfish KOA, and Thunder Bay Resort are some popular options.
While in the area, many visitors take time to visit the quirky town of Wall Drug, which is hard to miss due to the numerous signs!
It's essential to check the availability and reservation requirements in advance as some campgrounds fill up quickly, especially during peak travel seasons.
Happy Camping!
DLM-Distribution / Campervans is a licensed manufacture and dealer located in Lake Crystal Minnesota serving clients around the country
Contact Dave: 651-285-7089 or Candy: 507-382-9446 today!