NEWS
September 1st, 2019
Small Campervan | Small Motor Home "The Class B advantages"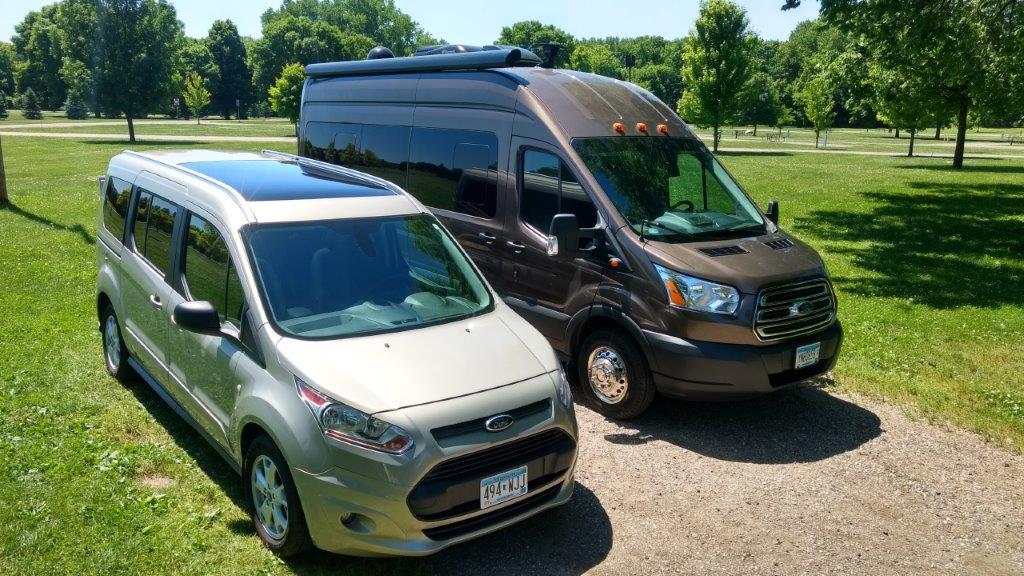 Why look closely at the Transit or Transit Connect Mini-T Garageable Camper Van?:
1. Better fuel economy
2. Camper vans are easier to drive than a big motorhome
3. The Mini-T Campervan will fit in your Garage
4. Can go through any car wash- easy to keep clean inside and outside clean- smaller is better!
5. Can access smaller roads and dirt roads leading to "out of the way" dispersed camping opportunities
6. Can take a nap, get some sleep rest wherever parking is allowed.
7. With a small RV you can and drive your vehicle to explore the area and your RV home and food is always with you so you can save on restaurant meals. With a larger RV you would need to leave it behind and take a second- pulled behind vehicle to enable parking and exploring
8. A camper van will go anywhere a car can go- garage, parking garage, small roads, parking in busy cities or high brush areas with low trees. NOTE the Full Size Transit will travel to all other then a garage or parking garage :-) The Transit Connect fits in all without a roof rack.
9. If, while exploring, you find a great overnight spot, you can stay without having to backtrack to get your RV.
10. Storage is enough for most people, with less storage space you tend to bring less "stuff" you will likely not use and be less tempted to buy too much in route. Extra stuff along the way on an extended trip gets mailed home enabling you to stay on the road without clutter
11. Can be used as a primary or secondary vehicle when not traveling. Great for tailgating.
12. This small Camper Van RV should hold its value better than a larger RV due to escalating fuel prices, high storage prices and higher insurance costs for the bigger RV motorhomes.
13. You don't need a toad (tow vehicle) adding additional expense and set up time when camping and maneuvering around your destination
14. You can park it in your driveway or maybe your garage! big plus, no storage fee's and may be an Home Owners Association - HOA friendly RV
15. You will not pull into a parking lot wondering if you will be able to park or turn around
16. More camping opportunities, many camp grounds do not have spots for the larger motor homes
17. Great for a trip to your friend's bon-fire and parties- You always have a place to stay without imposing on their home and space. Beside the big benefit of sleeping in your own bed with your own bedding!
18. Of course you save on hotel fees when traveling but with a Transit Connect Camper van you can pull over, sleep and not have to unload to go into a hotel, pack back up and load vehicle again each night. Setting the bed up takes seconds!
19. Using a camper van as a primary vehicle is a wonderful option- less insurance, less cost maintaining multiple vehicles and you can be spontaneous- your gear is with you, spend the night, make a meal, go for that extended hike. Take advantage of your time without having to return home to re-supply for your next adventure.
20. A Large Motor home often does not get used many days out of the year. Think about "cost per use when making your RV purchase decision!
A) Large home= monthly payment + storage when not in use, + 8 +/- MPG fuel economy, + insurance, + depreciation, + cleaning and maintenance costs, plus higher camp ground fees- full hookups) Consider a $100,000 big Motorhome RV financed with all associated costs that is used 3 weeks per year on average. You will find this RV costing over $1050 per use!
B) Small Motor home= Higher use, Reduced monthly payment, high MPG fuel economy, less insurance cost (insures like a car), will likely depreciate less, easier to sell if you choose to sell later, clean at home or at gas station car wash, lower camp fees.
NOTE: You must run your own numbers when considering the examples above. 1) financing 2) how often you use your RV 3) style of camping and other variables will all make a difference in your cost per use.
DLM-Distribution / Campervans is a licensed manufacture and dealer located in Lake Crystal Minnesota serving clients around the country
Contact Dave: 651-285-7089 or Candy: 507-382-9446 today!